Well... I do. >_>
Plus the mere abstract thought of baby!L makes me die of cute. XD
Updates!:
(*shot for punctuation blashpemy*)
1. Sought out my classes on the campus map. First class is actually stunningly close to my apartment, FTW! ...except that the second class is at the opposite corner, with a ten-minute passing period to hasten to it. Imminent punctuality fail. XD
2.
MOAR TEIN
. And darlings, darlings, keeping up is overrated! XD It'll still be there... forever... and ever... and ever... Though holy crap, guys, it's about to break 600 reviews. O_o I've never had 600 reviews before, even in the heyday of the Draco/Hermione fluff-crack-chaos known as the "Her and Me" trilogy. Whoa. Like, the-Matrix-has-you-WHOA.
3. Death Note boxed set is SO sitting right next to my computer right now. Yeeeessss. *pets it obsessively* ...all nice and ready to scare my roommate with the pretty skulls... >3
4. Drabbles drabbles drabbles.
Observation
is about Matt and Mello (
here
at the fic comm o' doom), and
Frail
, which... I won't tell you who it's about, because I want to see if I really was unclear, since some people are having trouble figuring it out, it seems. XD (Or go to the
comm version
and cheat, if that strikes your fancy. XD)
I am fantastically useless and persistently full of ficspam. It is the truth.
Also, I am not sure how I forgot JUST HOW MUCH my roommate talks on the phone. It's incredible that her ear hasn't rotted right off, honestly. XD
Feeling: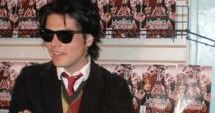 dorky