Couldn't sustain a mood like that one for long -- certainly not with top-volume Mika and one of those gorgeous-blue-sky days that makes everyone in the country think California kids can't handle averse weather conditions.
Would you like my 113-degree July? 8D
...
jenwryn
is not impressed. XD
I also got to work on the next chapter of "Chocolate Always Loves You Back," and it's coming along pretty well. Err, yeah, need that sucker done by tomorrow. And
sabriel75
, there's a line in there for you. XD If it doesn't jump out, remind me, and I'll tell you which in particular it is. :D
And then my Milton teacher was like, "I was on drugs when I said we'd get to Chaos today," and I just gave in and let the day get a whole lot better. XD
She's pretty hilarious -- this is the one who looks like Sarah Silverman. I've got a bit of a girlcrush on her I mean what. :B
Then I bit the bullet and bought a ticket to see Ang Lee and James Schamus. I'm really going to try to catch up this weekend, around all the
fangirling, Windwaker, and episodes of Merlin
critically important things
eltea
and I will be doing, and I figure... even if I don't do as well as I'd like on that midterm, I'm not going to regret it forever.
Also, I
refuse
to have to be like, "Damn, I wish I'd..." every time I see the cover of my copy of "Brokeback Mountain." XD
Tomorrow morning, I am performing a scene.
In HEELS, my friends.
No, I need them; 5'1" is just not impressive on its own, and my character is a Grade A bitch. XD
I'll probably remember all the other things I was going to say the second I hit "Post." XD
First, though, you guys are all fantastically wonderful to me, and I really do appreciate it. ^^
*sneaky edit ftw* If you're into Merlin, you muuuuust read
crazyboutremmy
's fic
here
. It's just MADE OF WIN. XD
Oh, yeah, another thing that made me happy today was remembering that
I won the internet last night
on the One-Sentence Porn Meme. XD (I'm breaking anonymity and DO NOT CARE. >3)
Feeling: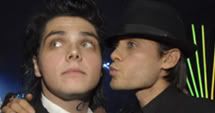 loved
On the Radio: "Happy Ending" - Mika