Uh oh, guys. She's using the Gay Icon.
No, really, wtf Script Frenzy? XD My characters have already revolted and done personality one-eighties.
Or at least nineties.
I am con-frigging-
fused
.
Also, my torrid love affair with unrealistically-snappy dialogue is hijacking all seven of the pages I have so far. (Wait, I'm AHEAD? What is this crap? ...which will change immediately, of course, but is still striking...)
Perpend:
Nick commences typing
I'm so glad to hear that; it's just amazing knowing you, even just here
and jumps as his phone rings violently where it sits on the desk beside him, singing out a very loud and slightly distorted rendition of the Breaking Benjamin song "Breath." He hits Enter, snatches the phone up, fumbles it open, and puts it to his ear.
NICK
(overstatedly)
Whaaaat
? I'm busy.
THEO (v.o.)
Let me guess.
NICK
Three guesses.
THEO
Claire, Claire, and... Claire?
NICK
One of those might be right.
THEO
Creepy online Florida stalkers aside--
Claire has responded with
Youre so sweet :)
NICK
(frowning at the window and replying, phone balanced between shoulder and ear,
lol, thanks, I think? *blush*
)
She's not a stalker.
THEO
Excuse me. Creepy online Floridian retirees with a taste for college boys--
Claire has responded,
lol youre welcome!
NICK
(gagging exaggeratedly and typing in a smiley face)
Eew
! Don't even say that, Christ! And you
know
she's real; I showed you her Facebook page.
THEO
It could be fabricated.
NICK
You're high. What do you want?
THEO
I want to know if this "Claire" character is sending you home-cooked meals from Florida yet. Do they eat alligator in Florida?
NICK
They eat your mom. Are you saying you're hungry?
THEO
The Great Interpreter strikes again.
NICK
Go to hell. Where do you want to eat?
THEO
If I knew, I'd be telling, rather than asking.
NICK
The only thing you've asked is whether they eat alligator in Florida.
THEO
Touché. Burrito Barn in ten minutes, you think?
NICK
Twelve.
THEO
You're retarded.
NICK
Thank you.
...
When will I learn that real people don't talk like this? XD
Uhh, probably never. XD
It gets even worse when they actually talk in person, true story. XD And it'll probably just spiral downward from here, because that's how we roll. On the floor. Laughing?
Anyway, it's
bizarre
, because...
tierfal (4:22:14 PM): Why did my helpless geek boy decide to be the snark master, [Eltea]. :P
(That would be Theo.)
tierfal (4:22:29 PM): And why did my clueless skater boy decide to be an idealistic English major. XD
(And Nick. XD)
The answer to both those rhetorical questions is probably "Because I'm still on a Matt/Mello trip." XD
IN OTHER NEWZ, you should be proud of my tremendous restraint. Lots of the Easter candy was on sale at Walgreens, but I only bought five dollars' worth. Truly. The temptation was immense.
Also, I had forgotten just how much I love "One-X" the Three Days Grace album. I am swooning all over again plz. XD
And now today's important story. Ish. Is anything I say
really
important? XD
So. Usually what I do when there's a play to be read for Theater 25 is get up early and head to the library before my MWF class. Last night, I determined that the one I needed was in no less than *two* of our campus libraries, the big one and the Englishy one I usually frequent for such things, and was like, "Okay, I'll get it after class and Rickroll some unsuspecting classmates with my morning instead."
As it turned out, there was only the slightest stub of chalk, and the board was very uncooperative, and nobody noticed, except the girl who was just as early as I was and found the proceedings vaguely amusing. XD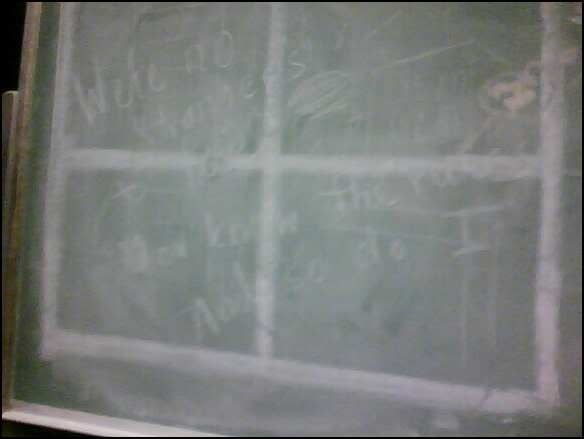 I'm still a little proud of myself or something.
Anyway, I went to the Englishy library after class only to find that someone had had the AUDACITY to check the book out before me. BASTARDS. So I went to the big library, which said it was checked in, but instead, it was... MISSING FROM THE SHELF.
People almost died.
As we learned in my picspam, I could have crushed them between the shelves.
It was tempting.
So I went home and sulked and wrote Script Frenziness for a while, and then I walked a mile back up to the bookstore to see if they had it in stock, which I imagined was unlikely, because required reading tends to disappear precipitously the day before it is required to be read.
But there were
two copies left
.
So I snagged one. And brought it back. And read it.
"
The Laramie Project
." Moisés Kaufman.
Holy. Fuck.
Just... wow. The basic idea is that they wrote a play-like-a-documentary-like-a-play about this Matthew Shepard homicide, and... just
wow
. I don't even entirely know how I feel about it. It's almost too horrible, and too real, and too
much
. Because that's kind of the point -- it gives you everything, everybody's thoughts, and doesn't tell you who's right.
Which is horrible, really, in a lot of ways.
I want to make everyone I know read it, and at the same time, I think a lot of them wouldn't understand it at all -- or would take it wrong.
Except you can't take it wrong, because that's the point, too.
My brain hurts. XD
As does my slightly unsteady moral compass.
Just...
wow
, guys. O_o
I've been noticing recently, mostly since we started our culture-race-gender-sexuality unit (which is really what it is; it's insane XD) in this Theater 25 of mine, that... this is the class I'd kind of been waiting for. The professor is an incredibly histrionic black Republican mom (?!, right? XD Particularly given this campus XD), and I
love
her, and she's hilarious, and the reading list alone has changed my worldview in small-but-drastic ways. This is what college is supposed to be about. This is how assigned reading is supposed to feel.
Which is kind of nice, because a lot of college, the work at least, has been like-high-school-but-moreso otherwise. XD
Eh, the rest of my homework can go die; I have a few more lines of too-snappy dialogue in me, and I need to get more than three hundred words into that Merlin fic. XD
Yarly. O_O
Feeling: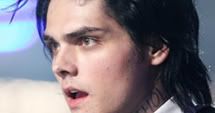 blown away
On the Radio: "Get Out Alive" - Three Days Grace