Let's see what I did today, shall we?
Because I heart LJ cuts.
Went to class. Effed up my self-written monologue (though I
was
going first, after all, and only wrote the damn thing
last night
, after all, and a few of the people who went after me forgot their lines almost as much). Read another book of
Paradise Lost
; am now only five-ish books behind (shit). Read "The Colored Museum" by George C. Wolfe and enjoyed it (as it is for the lulz).
Drives me kind of crazy, though, that there's so much quasi-separatist rhetoric from some of the black playwrights (August Wilson being notable) that it starts to feel like white people can't laugh at black satire simply because it's written by blacks, for blacks, to tell them something in particular.
Which, come to think of it, probably explains the emo race-rant I wrote for Theo to deliver at some unspecified point in the future of my Script Frenzy. The emo race-rant in question results in an extrmely un-PC pun from Nick.
ilu Nick. XD
Script Frenzy in question is just about forty pages now. Holy hell. The problem at this point is the fact that... I'm guessing it'll be longer than a hundred pages, which means I'm
not
actually ahead, which means... potential problemas, chicas. O_o
I don't know if I actually mentioned anywhere (other than to
chamyl
♥) that the basic plot is that they're expeditioning to Florida so that Nick can
stalk
surprise his online True Love.
Chaos ensues.
In any case, as we learned the other day, their first stop is Tahoe.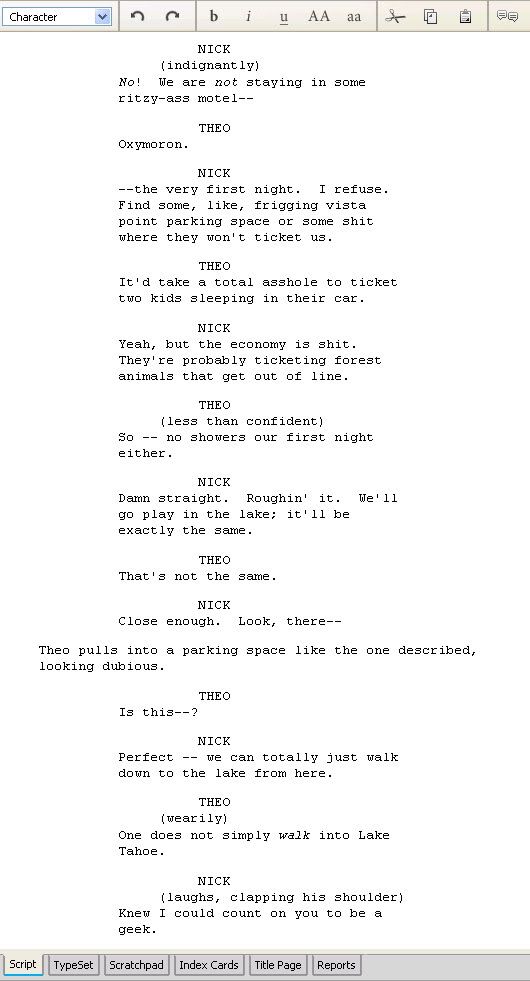 Hands up if you saw
that
coming.
Is it weird to sit around with the Google Map of California laid out as you write? And is it weird to go through the process of placing an online reservation for a KOA campsite to figure out how much it would cost?
NO, IT IS ART. *srs face* O_O
It amuses me that there is virtually nothing in Nevada. XD
Except, as I was telling
jenwryn
, crickets that grow to be an inch long.
Those things were nasty, friends. And they liked to hide in shoes.
And there's Vegas. If you haven't been to Vegas, I don't know what to say to you. Except that there are shiny lights, and it really is like the movies make it look. *____*
I should consult with my mother this weekend on how long it would take these boyses to drive from one place to another; she knows the California to New Mexico (via Bakersfield, Vegas, Flagstaff, etc.) route like the back of her driving hand.
It's weird that Yosemite and Death Valley are so close together.
And that you could totally go to Vegas for Spring Break if you lived in L.A.
Oh, snap, is that a Matt/Mello plot bunny I detect? D:
Also, I'm thinking Nick would want to see Roswell. Even though I'm pretty sure there ain't much there. XD
Maps are fun, wtf?
Back to work.
But not homework.
Never that.
My fingers smell like chocolate.
Also, early
brigits_flame
piece is early. I'm not sure why. Probably because the thought struck me, and then I was doing the Emo Thing all afternoon, and I decided to get
one
useful thing done while I was at it. XD
"SEED"
Death Note influence? I DON'T KNOW WHAT YOU'RE TALKING ABOUT.
And for once, all that analyze-able stuff in it is intentional. O_o
And as the lights all went out
We watched our lives on the screen
I hate the ending, myself
But it started with an all right scene
- "Disenchanted" - My Chemical Romance -
Feeling: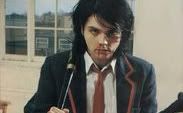 okay
On the Radio: you get three guesses