1. Drowning my emo in Mika seems, at least temporarily, to work.
2. God, I love
Mrs. Dalloway
. Septimus, friends. It is all about Septimus.
3.
Crayons
is the latest of "Fifteen," for Matt/Mello fans. :)
4. I've noticed that almost every time it rains, I end up with rain in the fic I'm working on -- or just suck it up and write something
about
rain. Witness
Cancer Sticks and Rain
, also for Matt/Mello fans; and
"Harmony"
, which I call "That story where the emo kid takes his wet pants off oh-ho-ho" in my head. (Okay, no, I don't. XD)
5. The reason I noticed that is... because a very lovely girl had a birthday not too long ago. :D (Seriously, not that long ago -- this is like a Me Record. XD)
crazyboutremmy
, my dear, I hope it makes you smile. :)
INEVITABILITY
(I probably should've edited it more, 'cause I only finished it yesterday, but I am lazy as hell at the best of times. XD)
6. Nick and Theo need to get the hell out of
Dodge
Reno. Their
insipid
intrepid adventure has only just begun.
(lol I think it should become a Final Fantasy crossover, and Reno-the-smoking-hot-character should show up in Reno-the-place. y/y?)
7. The next chapter of "Chocolate Always Loves You Back" got itself written Wednesday night and yesterday, so it should be up tomorrow sometime. EXACTLY AS PLANNED.
8. My family has catchphrases. They're like internet memes, but less politically-correct.
9.
There ain't nobody who can show you how
To find the surface when you're underground
There ain't no blanket that can hide this cold
There ain't no memory that ever gets old

But it's all right
Why don't you tell me again --
How you'll still be there when the heartache ends?
Well, it's all right
Why don't you tell me, my friend --
How you'll still be there when the heartache ends?

- "When the Heartache Ends" - Rob Thomas -


Feeling: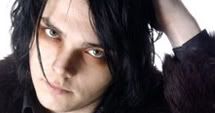 melancholy
On the Radio: my stepdad snoring lulz