I just wanted to tell you... that chocolate is like crack, only legal.
Maannnnn,
eltea
and I perved on so much Merlin shit today. It was fucking AWESOMESAUCE. 8D
Ooh, chocolate sauce. :D
Ooh, Mello comes with. >D
Mello: Have I told you today that I want to shoot you in the kneecap?
There's a phrase I've seen circulating in the Larger Writing World:
"When the plot drags, shoot someone."
Apparently, my version is, "When the plot drags, drop your characters into a drag race...
...AND SEE IF THEY SURVIVE!!"
Then I finally got to that UST I'd been hyping, so that's nice. Took physical pen-and-paper to get it flowing right. (
jenwryn
's got my back on this one, y/y? 8D)
Then I made the mistake of typing it up and whatnot. Taking "and whatnot" to mean "checking my page count."
tierfal (9:20:12 PM): Ummm, question. :P
tierfal (9:20:21 PM): Why is ALL the shit going down in Flagstaff?
tierfal (9:20:28 PM): WHAT IS IT ABOUT FLAGSTAFF THAT MAKES SHIT GO DOWN?
eltea (9:20:42 PM): Um, I don't know. XD
tierfal (9:20:43 PM): Flagstaff must be magical. :P
eltea (9:20:59 PM): XD
TEN MINUTES LATER
(In case you are illiterate in numbers. I know I am. No shame. No shame.)
tierfal (9:31:11 PM): Oh shit. :P
tierfal (9:31:14 PM): I'm on page 68. XD
eltea (9:31:29 PM): XD!
tierfal (9:31:25 PM): Okay, only barely. :P
tierfal (9:31:30 PM): BUT THEY'RE IN FUCKING FLAGSTAAAAAFF. XD
eltea (9:31:45 PM): :P
tierfal (9:31:58 PM): Fucking script going out of fucking control. :P
eltea (9:32:14 PM): XD
tierfal (9:34:14 PM): Int. Theo's Car - Somewhere in Texas - Morning
NICK
Wow, we're driving hella fast.
THEO
...yeah...
Int. Theo's Car - Somewhere in Louisiana - 2 PM
NICK
(glancing behind)
Are those... shock waves?
THEO
...I don't even have my foot on the pedal...
Int. Theo's Car - Florida - 2:05 PM
NICK
O hai, we're here!
THEO
........
And yes, there is a row of Coconut-Creme Kisses' and Raspberry Hugs' wrappers on my desk.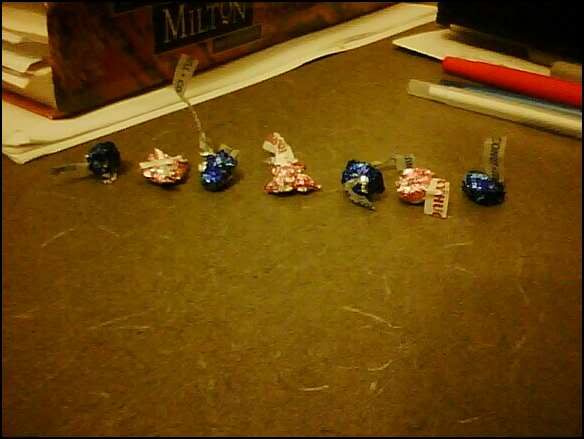 Don't judge.
DON'T, MAN.
We will not speak of the last quarter of the Hershey's-with-Almonds bar, the large handful of jellybeans, or the
other
Coconut-Creme kisses.
In other news, MY TORRID LOVE AFFAIR WITH THE CAPS LOCK KEY CONTINUES, and I think I may have finally come unhinged. 8D
Which is such a strange mental image, if you think about it -- like, what
hinge
are we talking about? Where is it located, and why do I care if I don't have it? XD
Plan for tomorrow: more sleep, less chocolate.
Odds of occurrence: .1/infinity
(Told you I was illiterate in numbers! 8D)
(At least I'm not trying to divide by zero yet. IT HAS HAPPENED BEFORE.)
Feeling: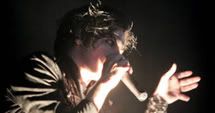 hyper
On the Radio: "This Is How It Goes" - Missy Higgins