Going MIA from LJ for a day reduces the yield of in Inbox by at least three-quarters.
O, YOU GAIZ. 8D
Easter candy was 75% off. Two boxes of five each cost me a grand total of twenty-four cents.
PEEEEEEEEEEEEPS.
And I got an A on my paper on
Under Western Eyes
, meaning that I don't need to write a second paper in that class. FUCKYEAHPLZ. Only two papers and three finals and I'll be out of this shit. >D
One of those papers is due next week, however. Houston, we have a problem.
At least I re-borrowed
M. Butterfly
from the library so that I can write about it. I intend to buy it, but... notritenao. Fill in reason of choice.
(Correct answer was
q. excessive laziness
, if you were curious. XD)
Today (yesterday, before midnight) my sister is fourteen years old. She is significantly more awesome than I was at fourteen. SIGNIFICANTLY. For one, she's amazingly funny; and for two, she doesn't give a shit what people think of her. XD
It's very, VERY odd to me, however, that she's the same age as a few of you who will here go incognito in the interest of pedo prevention. I dunno. It's just strange. Your internet presences are not like her internet presence, and it always gets me to wonder what it would be like to lock you all in a room and see what came of it.
She wrote fanfiction a while ago, actually, though I think she's mostly lost interest -- for The Backyardigans, which is the greatest show in ever.
I had
"Dragon Mountain"
stuck in my head earlier and ended up listening to like an hour and half of Backyardigans music accordingly.
/PIMP, KTHNX 8D
Really, though, the Mighty Knights episode had a huge influence on the
brigits_flame
entry that I'll be linking to once I have half a brain to edit with.
Back on topic, I
remember
when that child came home from the hospital. I remember holding her for the first time.
I was wearing my corduroy jumper (not the Brit-English jumper) with the red-checkered apple on it.
As you can tell, at six-and-a-half years old, I was already destined to be a Death Note fangirl.
So... the basic story of today is that I got home at about eleven and soon after started making icons.
Many icons.
Almost a hundred icons.
Merlin icons.
Oh, yes.
It only took... seven hours.
Hey, man. Hey. They're pretty. And they go nicely with the icons I made the other night, because 109 is a lovely total. 8D
So I'll put those up in this hizzouse when I'm not feeling quite so insufferably lazy.
Pssh, like that'll ever happen. XD
Post-icon-fest, I went and saw the weirdest frigging dance show in the history of mankind, because I had to as an assignment for my acting class. IT WAS WEIRD. Minimal noise-music and lots of ballet-ish stuff and... weird. O_o
That's pretty much the summary of it.
Tomorrow is Cal Day. Which means School Show-Off Day. I bet I can find some free shit.
If I even get up before it's over, anyway. XD
Have some more "Fifteen":
Karma
. I wrote another of them yesterday, such that I only have two prompts left to fill in. They're tricksy ones. I'm stirring some ideas around. *blows on spoon and tastes*
That will be all for this evening. ♥
Feeling: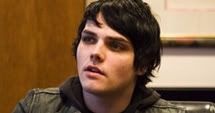 sleepy
On the Radio: "DIE NAO" vibes from my trying-to-sleep roommate