Stuff.
I was up later than I ought to have been last night, because I was actually getting writing done for the first time since... a while. Writing that I
liked
, anyway.
Only it was supposed to be fluff, but it started looking more like the lovechild of
Jericho
,
By and By
, and
The Dawn of Remembered Time
.
Presuming that three fics can have a lovechild.
Don't ask me.
Anyway, some of you are going to say you're excited, but you DO NOT KNOW OF WHAT YOU SPEAK. XD Plus as soon as I start hyping fics, my Muse tends to leave me in the lurch just to show me a thing or two. D:
I need to write the next chapter of "Chocolate" by Saturday. SHIT.
I have to write a six-page paper by Thursday. DOUBLE SHIT.
In other news, I'm about eighty-five to ninety percent off-book on my monologue. Which is good, since I'll probably do it Wednesday. As with scenes, we're doing them three times and getting suggestions each time, so after the final run, I'll see if I can convince
eltea
to film me
making an ass of myself
performing it and put it up here for you guys. Because
missusjackson
asked nicely. ♥
And because, as I mentioned to my Theater 10 teacher in exactly this many words this morning, I am a performing arts whore. 8D
Anyway, hopefully I will be able to do it justice.
Does anyone else always think of L when they say "do ______ justice"?
Or more like, "Do
me
, Justice," AMIRITE. >3
I made the mistake of calling on the Cars to help me with Script Frenzy last night.
And she's laughing inside
Because they can't refuse
She's so beautiful now
She doesn't wear her shoes
She never likes to choose

She got wonderful eyes
And a risqué mouth
When I asked her before
She said she's holdin' out

She's a frozen fire
She's my one desire
I don't wanna hold her down
Don't wanna break her crown
When she says
Let's go
This from
"Let's Go"
.
tierfal (11:37:20 PM): You know my favorite thing about "Let's Go" by the cars?
eltea (11:37:31 PM): ?
tierfal (11:37:36 PM): First of all that "She's seventeen" used to sound like a long way away; second that... the guy singing it is NOT under eighteen. :P
OH, SNAP.
Me binging on the Cars seems to be a triannual-ish occurrence.
Or just every time I start playing any one of their songs and then start jamming as if I was even alive when they were making music. XD
YouTube is threatening to do that thing again where it refuses to let me watch things
because I slept with Google Video
for no reason whatsoever.
...crack? ME? I don't know what you're talking about.
I blame Mother Nature. Her air-conditioning unit is broked.
Do you remember about a million years ago, when
emmadaiou
meme'd me with
2. Write a little drabble on an original character. Easier than leaping into a novel rewrite, yes? ;D
?
I DO.
The question is... If this was the beginning of a novel, would you put it down or keep reading?
The other question is... NO, OF COURSE THERE IS NO DEATH NOTE INFLUENCE. Except that
eltea
and I were going to write a story with Mello as a vampire-hunter once, because that would be amazing. But you'll have to settle for Gabe. Who is legitimately not Matt; the smoking inspiration, incredibly, really did come from elsewhere.
And... the moment you've all been waiting for with marshmallow-y, bated breath:
Peep Art I
and
Peep Art II
.
I have unleashed something terrifying.
And covered in yellow sugar.
The fact that the strawberry jam jar and the
TEIN
Free Robots van are in the same picture is obviously a complete coincidence.
Feeling: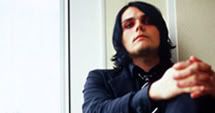 lethargic