Okay.

More like "Damn Gay."

If the creators of Death Note didn't want this to happen, they shouldn't have made two extremely minor characters ridiculously hot and then put them in a bunch of tense scenes together.

IT COULD BE CANON, YOU GUYS. XD

Anyway...

Duh, I ship this: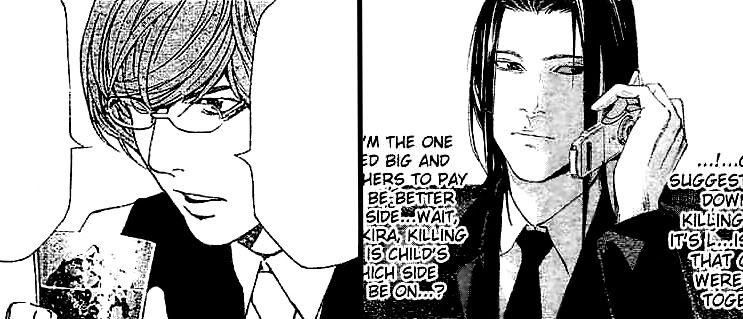 And so does Shimura.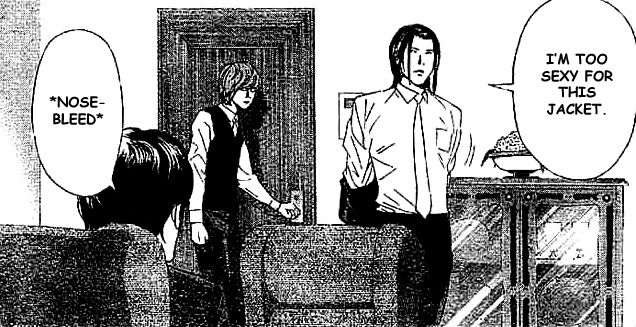 ...well, he's right...

So that's that.

And this is this:



TOUCHÉ


My favorite part of this fic is the fact that I spend so much time talking about status and shit... and I wrote the whole thing to the Local H cover of "Toxic" (you can has. With super-kawaii!!!!!one Near slash. Because... I couldn't find the Matt/Mello one I had before? XD It's cool; I'll need this anyway for one of my next projects. THAT'S RIGHT.) and "Animals" by Nickelback (which is the most blatantly dirty song I've ever heard in my life, which is why I'm giving you the version with the lyrics! 8DDDD).

**edit** o hai here's the Matt/Mello one, too. 8D

**other edit** o hai, I remembered that much of the reason that I finally got my shit together and posted it was a conversation with
icequeenrex, followed by one with
emmadaiou28 that involved a link to a cracky doujinshi. ASK AND THOU SHALT ALSO RECEIVE.

I'm just that disturbed awesome. XD

Normally scheduled lives: you can haz! :D