Okay.
More like "Damn Gay."
If the creators of Death Note didn't want this to happen, they shouldn't have made two extremely minor characters ridiculously hot and then put them in a bunch of tense scenes together.
IT COULD BE CANON, YOU GUYS. XD
Anyway...
Duh, I ship this: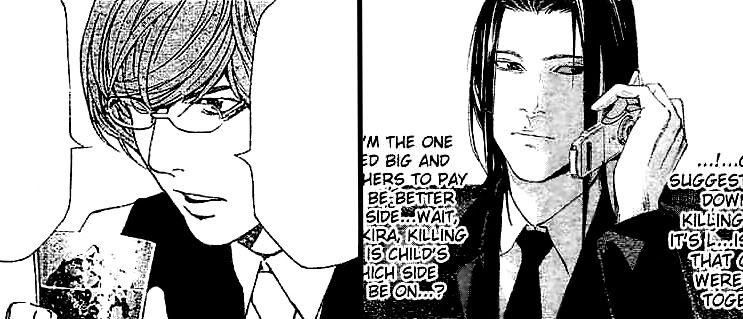 And so does Shimura.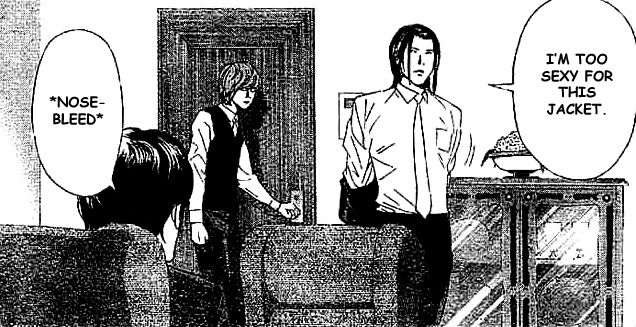 ...well, he's
right
...
So that's that.
And this is this:
TOUCHÉ
My favorite part of this fic is the fact that I spend so much time talking about status and shit... and I wrote the whole thing to the Local H cover of "Toxic" (you
can has
. With super-kawaii!!!!!one Near slash. Because... I couldn't find the Matt/Mello one I had before? XD
It's cool; I'll need this anyway for one of my next projects. THAT'S RIGHT.
) and "Animals" by Nickelback (which is the most blatantly dirty song I've ever heard in my life, which is why I'm giving you
the version with the lyrics
! 8DDDD).
**edit** o hai
here's the Matt/Mello one
, too. 8D
**other edit** o hai, I remembered that much of the reason that I finally got my shit together and posted it was a conversation with
icequeenrex
, followed by one with
emmadaiou28
that involved a link to a cracky doujinshi. ASK AND THOU SHALT ALSO RECEIVE.
I'm just that
disturbed
awesome. XD
Normally scheduled lives: you can haz! :D
Feeling:
cheerful
On the Radio: "So What" - P!nk