This is my five-hundredth LiveJournal post.
FIVE HUNDRED IS A BIG NUMBER.
Ergo, we are going to have a fucking party.
What: A FUCKING PARTY
Who: YOU; DON'T YOU DARE RUN AWAY
Where: HERE
When: FROM NOW UNTIL IT STOPS
Why: IT'S OVER FIVE HUNDREEEEEEEED
How:
WITH YOUR PARTICIPATION.
EVENT UNO
Ell-Jay Jukebox
Post awesome music and music videos and get songs stuck in everybody's heads until they want to kill you (revealing your address is inadvisable)!

EVENT DOS
"I Never"
F-locked for shame. The game where we all find out how sketchy you really are!

EVENT THREE-IN-SPANISH-IS-SPELLED-FUNNY
Truth or Dare
Self-explanatory. I hope. (Also F-locked.)

EVENT QUATRO
Pictionary
Only it's not quite; more like art-requestionary, but still...!

EVENT CINCO
Dress-Up
F-locked, where we post pictures of ourselves wearing the coolest shit we can find in our closets at this present moment!

EVENT SIX-O
I Lol'd
Post stuff that makes you laugh -- gifs, Lolcats, anything funny and embeddable!

EVENT SERENGETI
Kink Meme
Write some KINK. Anon; can be fluffy, can be porny, must be kinky; any fandom goes!

EVENT HEAD HONCHO
CRACK RP
Everyone can be Mello. Mello can be a girl. Mello can turn into a girl halfway through. John Falstaff is welcome. o hai Voldemort; nice dress; did you borrow that from Mr. Cullen?
NEED I SAY MORE?
GO FORTH AND PARTY LIKE IT'S YOUR BIRTHDAY.
Also, someone needs to teach me to spell in Spanish,
stat
.
If you don't have time to play now, that's okay! :D This'll be hanging around for a long time; join in whenever you can. ^^
It should not surprise anyone that
eltea
came up with all of the awesome stuff. Period. 8D
Feeling: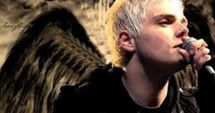 CRACK PLZ
On the Radio: "Joker and the Thief" - Wolfmother