It's funny, because I had this crazy idea like I was going to finish my Script Frenzy today.
Instead, I went to a party.
MY PARTY
. Join in whenever you have time. :D The party doesn't stop until we get bored. 8D
Be forewarned that my conduct over the past forty-eight hours has led me to believe that there is cocaine dissolved in my blood. O_o
Exhibit A: How
Death Note
should have gone.
L ftw
. omg, I laughed so hard. XD
Exhibit B: Bradley James... ISTHESEXPLZ. (This is lots of footage of Arthur kicking ass from pretty much every "Merlin" episode, so if you're really spoiler sensitive, you'll just have to perv on my icon and pretend. XD)
merlin_hero - yorkshirewench
Also, I wrote lots of shit today.
Venison
, Arthur/Merlin, K+, for a HIGHLY-ANONYMOUS requester on my
kink meme
...
And
Superfly
, Matt/Mello/Near, K++, for
jenwryn
, because I loooooove heeeeer. :3
I've got more shit to type up, and more PARTYING TO DO. 8D
*has a rave, in her room, by herself*
Roommate: .....
Feeling: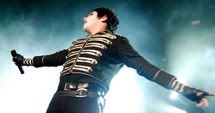 jubilant