Welcome to today's edition of... What I Did Yesterday -- WITH ILLUSTRATIONS!
SO. I watched an episode of "NCIS" with my mom.
MCGEE IS DORK!LOVE. 8D
And then later we watched an episode of "The Mentalist." I think I've mentioned before how thoroughly I enjoy that show. :D
VESTS ARE THE SEX. PATRICK JANE PLZ. 8D
It's funny, though; show me a guy who dresses snappy, and I'll show you fangirl drool. :P
Speaking of snappy dressers... Exhibit B is our dear friend Lightypants, because the other thing I did last night was to finish the next chapter of "Chocolate Always Loves You Back." :D Very indicatively, it's called...
"Pink Shirts"
. 8D
But I couldn't find a picture of Light wearing a pink shirt, so... I fixed that. :P
There are, of course, two problems with this picture; the first is that I'm willing to bet Light would favor a SUBSTANTIALLY subtler shade of pink; the second is that he looks about twelve in this shot. XD And while I have modified the ages -- L is supposed to be closer to Light's age, anyway -- it would make everything a bit awkward if Light was twelve. XD Especially since Matt, Mello, and Near are like, what, FIFTEEN? XD
ANYWAY. This has been your Tierfal Rambling Episode for today. 8D
If I had anything else to say, I forgot it in the midst of the Photoshoppy joy involved in coloring Light's shirt in magenta. XD Light, why exactly are you SO EASY to torture and harass? XD
Oh, yeah, because you have an ego the size of the Goodyear blimp, and stabbing holes in it is far too much fun. 8D
Also, for those of you who are keeping up with the fic... I almost died laughing today when
eltea
mentioned that, at this rate, I should probably change the title to "Coffee Always Loves You Back." 8D
Feeling: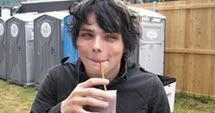 happy