Haha. Some of you may have noticed my new header. Hahaha. Like
jenwryn
. Who lol'd about it with me last night at an ungodly hour my time. Hahahaha. XD
And
eltea
, who started it with the first quote, the second being my response. XD NOW YOU KNOW.
Okay. So. I'm exhausted. XD
I got up at eleven (strenuous...). I went to go snag a time at Office Hours with my Theater 25 professor. I tried to find the Century Plant and FAILED (but will try again tomorrow XD). I sat in that one place (
this one
) where I always wanted to, and wrote seven hundred words of "Kiss and Tell."
AND A DRAGONFLY LANDED ON MY NOTEBOOK.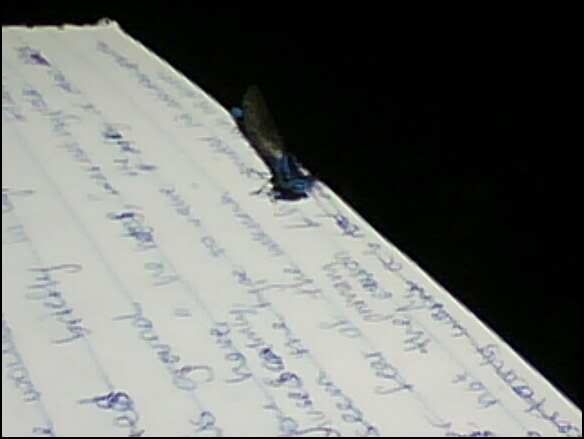 Thing was
royal
blue and just chillin'.
Unlike the ones that were totally getting it on not far away.
Yeah. The fic list. Looks like this. On my wall.
Glory in my shitty handwriting, which is even shittier when the pen is running out of ink and I'm inexplicably writing in all caps. XD
And then I wrote a six-and-a-tiny-bit-page paper on the word "train" in
Paradise Lost
.
Like a retinue.
Not like a vehicle.
They didn't really have those in the 1660s.
Y'know.
Anyway. That was fun. And by "fun," I mean "shredded my brain, though I think/hope/pray the damn thing turned out fairly well." XD
Then
eltea
and I talked on the phone for the better part of two hours. I'm sensing shock and horror from all. XD
So... I think I can survive until next Wednesday, when I am FREEEEEEE. It's just a matter of killing time, reading the rest of
Murphy
, and... what's that thing called. Studying. Right. That.
Suuuuure.
Also, I'm going to read the latest of the fics from you guys -- truly truly! I have the URLs saved. It's not that I don't love you; it's that I love you too much, such that I want to be able to comment as coherently as possible. XD
I do have something, though, for a certain beautiful girl
named
alias'd
koneko_zero
, and it's called
Funny, Kind Of
.
I HOPE YOU LIKE IT, BB!!!! :) ♥
I should edit better, but I'm having trouble making my eyes focus properly. XD Also, I think that starting with this fic, starting tomorrow, I'm going to cross-post more. Brace yourselves. :|
Feeling:
exhausted
On the Radio: "Toxic (Cover)" - Blowsight