This morning, I felt kind of lame, so I read most of Book 10.
Finals? WHAT ARE FINALS?? >_____> ...no, I actually started studying. First sign of the Apocalypse. (The second, as we know, is
Aidan Marchmont walking into a meat freezer
. XD)
Life is dandy. And exciting. And compelling. And Shakespearean.
Or it would be, if I
HAD
a life. 8D
This
. Is cool. Yeah.
Last night,
eltea
made the mistake of telling me that I'm going to ship Puck and Oberon in
A Midsummer Night's Dream
-- which she is fairying (it is so a verb) in now, and has been since December, because that is how our Shakespeare festival, the Other Mafia, rolls. :D And which I shall subsidiary fairy (oh ho HO it rhymes XD) for in July, which will be too much fun altogether.
There will be pictures, I'm sure. :3
Anyway:
tierfal (12:24:04 AM): Watch me totally ship Lysander and Demetrius I mean wut.
tierfal (12:24:09 AM): Never let me watch Shakespeare again. :P
eltea (12:24:13 AM): XD!
tierfal (12:24:18 AM): O wait that's going to be a little tough. :P
eltea (12:24:23 AM): XD
tierfal (12:24:24 AM): :P
eltea (12:24:29 AM): Just don't watch Hamlet. XD
tierfal (12:24:37 AM): Hahaaa.
tierfal (12:24:40 AM): HAMLET/HORATIO PLZ?
eltea (12:24:46 AM): Indeed. :P
tierfal (12:24:50 AM): >3
tierfal (12:25:04 AM): I ship Hamlet/Ophelia, though, so maybe I'll just OT3 them. :P
eltea (12:25:10 AM): 8D
tierfal (12:25:14 AM): God, I'd totally ship Horatio/Ophelia; that'll work fine. :P
eltea (12:25:22 AM): XD
tierfal (12:25:35 AM): Um.
tierfal (12:25:39 AM): Let's pretend this conversation never happened.
eltea (12:25:43 AM): XD
tierfal (12:25:46 AM): By which I mean, "I'll probably post this to LJ tomorrow." XD
eltea (12:25:50 AM): :P!
tierfal (12:25:55 AM): >_>
tierfal (12:25:56 AM): <_<
tierfal (12:25:57 AM): 8D
...
Stop judging me.
HAMMER TIME.
Also, lol, my dad is on Facebook. Okay, so I've been FB friends with my stepmother for about a year now (dear God), but that's because she needed the thing for networking in her epic quest to become a State Assemblyperson (which was, in an utter and incredible nail-biter of a down-to-the-wire vote-count, ultimately successful. Connections. I haz them). BUT LIKE. MY DAD. WTF. XD
And... oh, dear.
This is slightly horrifying, and yet largely unexpected:
Yes. I broke 500,000 words on fanfiction.net. OH MY LORD.
Now, admittedly, their wordcounter tendentiously runs high, but... it also doesn't account for
all of these fics
, which are
tierfallen
exclusives, as we like to say.
As I like to say.
Something. XD
In any case, it doesn't account for all the o-fic for
brigits_flame
, either, and I think we can objectively and definitively conclude that
I write too damn much
.
Especially given that 241,243 of that total, or 48 percent, is Death Note, which I picked up in mid-August.
Nine months. 241,000 words. That is 26,777 words a month, or roughly 893 words a day.
Of
just Death Note
.
...that I've uploaded, so not including any of my current WIPs.
O______________________o
Yeah.
I need to start writing shit I can get paid for now. XD
After I finish those eight million huge AU fics, that is.
One more time, I would like to thank
eltea
, officially, for meticulously beta-ing the overwhelming majority of those 500,000 words. Girl works harder than most betas who have, y'know, more than a single client. Umm. I frigging love you, bb. :3
And you guys are like, "Uhhh, we're not even remotely surprised given that you update every three flipping days and we can't even keep up with you take up knitting plz." XD
In related news, there is a new Fifteen chapter,
"Nevermore"
, and L and Light are being horrible to each other
again
in the bit of "Kiss and Tell" I'm working on. :D
...also, bits and pieces of fic are starting to pile up again, indicating the need for an uploading frenzy. Oh, hooray. XD
Feeling: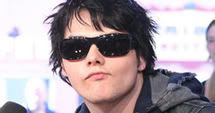 impressed
On the Radio: "Blow Me Away" - Breaking Benjamin