La la la la, random random random. I am clearly not procrastinating. >_>
Hey, it happens. XD
tierfal (1:25:50 AM): /one-thirty AM again? XD
tierfal (1:25:53 AM): WE MEET AGAIN
eltea (1:25:57 AM): :P
tierfal (1:26:01 AM): LIKE LAST IGHT
tierfal (1:26:03 AM): Er. night.
tierfal (1:26:06 AM): AND THE NIGHT BEFORE
tierfal (1:26:07 AM): AND BEFORE
tierfal (1:26:08 AM): AND BEFORE
tierfal (1:26:15 AM): I'm surprised one AM isn't tired of me yet. :P
eltea (1:26:33 AM): If you keep seeing it every night, you might have to marry it and make an honest woman *strikeout* time of day out of it. XD
tierfal (1:26:41 AM): Hahahaha! XD
eltea (1:27:15 AM): One-thirty: WE'VE BEEN TOGETHER FOR SO LONG, WHY WON'T YOU COMMIT TO ME?
tierfal (1:27:22 AM): D:
eltea (1:27:28 AM): Two-thirty: Because she's having a torrid affair with me. >D
tierfal (1:27:33 AM): It's -- it's
eltea
and
jenwryn
, I've -- I've promised...
tierfal (1:27:34 AM): Yes. :P
tierfal (1:27:36 AM): That too. XD
eltea (1:27:41 AM): Haha, that too. XD
tierfal (1:27:42 AM): lol. XD
tierfal (1:27:46 AM): Fucking two in the morning. :P
tierfal (1:27:49 AM): Literally. XD
eltea (1:27:53 AM): :P
tierfal (1:27:57 AM): omg though four in the morning is the best lay out there. XD
tierfal (1:28:01 AM): It'll knock you out until noon. :P
eltea (1:28:07 AM): HAHA XD
tierfal (1:28:09 AM): XD
tierfal (1:28:20 AM): Why are we having this conversation? :P
tierfal (1:28:23 AM): Oh, I started it. XD
tierfal (1:28:24 AM): Right. XD
eltea (1:28:29 AM): Because it's one-thirty? XD
tierfal (1:28:33 AM): Yeah. :P
tierfal (1:28:35 AM): That.
tierfal (1:28:37 AM): Would be a reason. XD
Today, I have been studying MOAR MILTON. Is it wrong that I keep dog-earing pages of my notes with quotes that I want to use as fic prompts?
...yes. Yes, it is.
Today I also cut my fingernails. My typing abilities have increased by at least twenty percent. XD
NOW YOU KNOW.
Last night, when I was
not
busy seducing unholy hours of the morning, I discovered a new pastime: using Photoshop to draw eyeliner on pictures of pretty boys.
It's not my fault that the Doctor Who makeup artist made such a grave oversight (
SIGHT EYE GET IT GET IT
), which made
eltea
and yours truly get curious.
So... behold emo!Colin Morgan with eyeliner. XD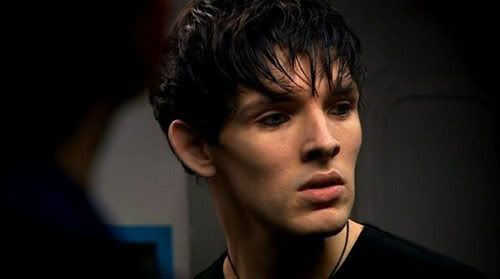 Original is
here
.
...it's kind of working for me.
But then, we have long since been aware of me and my Thing for guys in makeup.
*looks pointedly at Davey Havok, whose androgynous hotness was awesome starting half a decade ago, before I was even properly into effeminate boys*
Oh, yeah.
Davey Havok is a real-life bishie; he has implausibly good hair and impossibly long legs. o__o
The whole sings-like-a-god bit doesn't hurt either. XD
Okay, so, supposedly, it's seventy-odd degrees with 69% humidity here today, admittedly with winds at 15mph.
But...
why
am I freezing to death? XD
I think some of my nerve endings are inoperative. :| I seriously have one day every summer where it's eighty degrees of dead, dry heat, and I'm sitting in the sun in the living room curled up in a blanket, like, "AAAHH SO COOOOLD." XD
Sparta-style madness, friends. XD
Uhh,
energy drinks will shred you
, and no one is surprised. XD
My one energy drink experience was mostly just amusing; it was almost-instantaneous crack. XD
Not that we'd, y'know, notice the difference these days. :P
...have two random icons I made like a week ago. One of these days, I'll fix the other ones.
And post those hundred and fifty Merlin icons I still have lying around. XD


...Near versus Puppies is the Cuteness Match of the century, imo.
...but why choose when you can have
NEAR AS A PUPPY
? XD
Anyway.
I like ending posts with "anyway"; I'm sure I could draw an elaborate metaphor from this. XD
Feeling: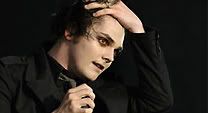 rushed
On the Radio: "Painless" - Mae