FICSPAM. o_o
The Cloud Forest
, next from "Fifteen," Matt/Mello, T, 232 words.
Affirmation
, a random and small Matt/Mello angstbucket, T, 350 words.
Generosity
, a slightly bizarre Arthur/Merlin/Will (yes, you read that right >D) for
eltea
, a very light T, 2,029 words.
I would like to apologize to everyone who's watching the comms I crosspost to. XD ...and there will be even more tomorrow. >_____>
Now I have to go write a
brigits_flame
entry, followed by the next chapter of "Chocolate."
WELL, SHIT. @_@
...lol, I talked to my mom about Milton for like an hour. I told you it was bound to happen. :P
Feeling: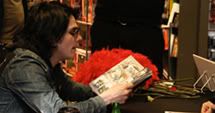 productive
On the Radio: my mom watching "Fringe"