1. Spiders are the minions of Kira.
No, really.
One darted across the kitchen floor after midnight last night, when I least expected it, in the hopes of giving me a heart attack.
IT ALMOST SUCCEEDED. XD
2. Marc St. James on "Ugly Betty" is definitively my new favorite television character. Because everything he does/says/conveys with facial expressions makes me die laughing, and because they've managed to make him a caricature and a character at once, and he owns. \o/
3. The other other downside of being home (other than only the sketchiest of internetz after eleven and, y'know, being trapped in an enclosed space with these lunatics I live with) is the food. Because it's everywhere.
Okay, so... I have the metabolism of molasses in January, and mostly what that amounts to is that I can't eat much, or I'll be like RAARRR GOJEERA. And no one wants that. XD The problem is that I
love food
, and my sweet tooth is insatiable. Now, at school, I just don't keep much food around, and that solves the problem.
BUT DAMN IT THERE IS SO MUCH FOOD HERE. ;_________;
ajfldsjklfkd.
What is this "willpower" of which you speak? XD
Anyway.
4. Ficspam. FIC. SPAM.
Feverish
, Matt/Near, 884 words, for
jenwryn
.
Give an Inch
, Matt/girl!Mello, 320 words, for
icequeenrex
.
One by One
, Ten/Jethro, 695 words, for
eltea
. (...
yes
, I ship the hell out of this pairing. You know what? FANGIRL. Comes with the territory. XD And, for the record, I wholeheartedly believe that Jethro is well over eighteen years old kthnx. XD)
All Right
, Ten/Jethro, 1,185 words, for... ME. 8D
I am vry sry to everyone who gets spammed by my cross-posting. I am an
attention whore
opportunist. :|
...okay, so all of this was written last night and today, and I
still
don't feel like I'm writing enough. What the hell is that. XD
LET'S GO WRITE MOAR. >_>
Feeling: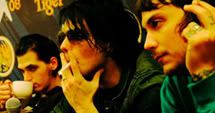 working