As in, "I spammed everyone unlucky enough to be watching the comms I cross-post to." XD
There's so much ficspam, I put it behind a cut. Hoshit.
WELL, there's all the drabbles from the other day, unlocked now:
Slate-Blue
, Remus/Sirius, K.
Shatter
, Axel/Roxas, K+.
Tomorrow
, Adrian/Sam, K.
Chocolate First
, Matt/Mello, T.
Perverted
, L/Light, K+.
Doormat
, Charles/Jay, K+.
Despite All Evidence to the Contrary
, Arthur/Merlin, K+.
And
Where the Heart Is
, Ten/Jethro, K+.
WOW, GUYS, WOW.
...and then there's the new stuff from yesterday and today, sweet Jesus.
Foul Deeds
, Matt/Mello, T, the next in the "Fifteen" series.
Trench-Coats and Neckerchiefs
, Arthur/Merlin, T, my Merlin X Doctor Who crossover o' magic (or not XD).
AAAAND
Sidetracked
, Mello/Near, M, for
sabriel75
. :D ...I liked it better last night at 12:30 AM, but... ajklfjdsk. I just hope you like it, dear. XD
(And it was "
Sober
" by Tool that did it; thanks to everyone who suggested music! :D)
So there's that.
And now for an important lesson.
So I watched, like, three more episodes of "24" with my mom (and one of "House"). It is a learning experience.
TEN THINGS I LEARNED FROM "24"
1. There
is
a mole. If there isn't, look harder. BECAUSE THERE IS.
2. In the last few minutes of each hour-long segment, things will get significantly worse.
3. The survival of an unnecessary, likable subplot character is cause for celebration.
4. The survival of
any
character is cause for celebration.
5. War crimes are wrong... unless they save the United States from (a) terrorism, (b) bioterrorism, (c) unclassified terrorism, or (d) all of the above.
6. Even if people swear under torture that they don't know anything, if you push them just a little farther, they will give you crucial information.
7. All of Murphy's Laws apply, including "If it can blow up, it will."
8. The more Jack Bauer yells, the more shit is going to go down.
9. Jack Bauer is allergic to everything but patriotism.
10. Jack Bauer can and will singe-handedly defend America, all its principles, all its interests, and everybody who is not a terrorist. In twenty-four hours. Without sleeping. (Ever.) With the aid of incredibly efficient transportation and the few, the proud, the Bauer Believers. BET ON IT.
...no, it's fun. XD That show is seriously KEE-RAZY, and it's good entertainment. XD
And now for an important poll.
Heads up,
sports
Death Note fans.
Or is Death Note a sport?
Mmmm, UST tennisssss.
But I digress.
...if you click everything available, you may be subject to sakujo without notice. :P
What shit should I write about?
L/Light/L/switchpair/stfu
I will tell you. In a comment. SNAP.
...rarepairs are, like, the weird-ass things I ship. Like Matsuda/Ide and Mikami/Near and Mikami/Misa (SRS I LOVE IT XD) and... I guess L/Mello counts. OT3s are things like Light/L/Matsuda, which I've always meant to write more of, and Light/L/Mikami, PLZZZZZZZ. :d And Light/L/Misa. (See, this is why
jenwryn
fulfills all my pervy needs; she's awesomely hit up the second and the third. :D) ...and Matt/Mello/Near, which taught me what an OT3
is
, goes without saying. XD
...why, yes, I *do* ship virtually everything imaginable. :3
So. TALK TO ME, FRANDZ.
...I may or may not have mostly just wanted to make a poll. Ahem hem.
YEY. XD
Feeling: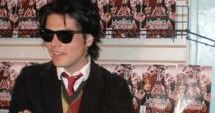 dorky