1. I sat down and read a book today for the first time in so long I can't remember what the last one was. Even most of the fics I read are short.
I hate to overuse the word "magic," but it was.
Relatedly, I want to have
Lynn Flewelling
's children.
This would be easier if she hadn't had her own children.
And raised them.
And put them through college.
In any case,
Shadows Return
made me remember all over again why I love those books so, so,
so
-so much. ♥
2. I'M SUCH A GIRL. XD I watched "Music and Lyrics" with my mom just now. XD
No, really. And if all chick flicks are this genuinely enjoyable, I'm going to have to revise my opinion of the genre.
Drew Barrymore is just so damn cute, and Hugh Grant has made his living as a charmer this way, and the dialogue was great, and it was hilarious, and yaaaaaaay. XD
It was just FUN, and everybody needs a little squee in their day sometimes. XD
Dialogue sample:
"...that's... wonderfully sensitive, Alex. ...especially from someone who wears such tight pants."
"It forces all the blood to my heart."
8D
3. I found that song.
You know, "
Daylight
" by Matt and Kim, whoever
they
are.
You know, the one in the
Bacardi commercial
.
There we go. XD
Uh, 3.5 -- I finished the chapter of "Chocolate" last night. And. Need to edit it. And. Will be grovelling at
jenwryn
's feet for a onceover very soon. XD
I'm lame, but you love me. ♥
...I hope. XD
Feeling: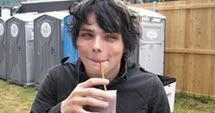 happy