I posted old fic because I wanted to feel like I'd actually done something with my Sunday other than... eat dim sum.
Which I hadn't.
But I actually liked
The Point
today, whereas most days I don't, so I went with it.
The highlight of the evening so far.
My sister is talking about the
total dips
people who comment on YouTube.
Sister: And I see "I heart Miley Cyrus" all the time.
Step-dad: Why not another suit? Why not "I club Miley Cyrus"?
Me: That would be like Tanya Harding.
Step-dad: "I spade my dog"?
I LOL'D.
And since I'm a complete conformist,
you may take this opportunity to raise your eyebrows at my taste in music.
Step 1: Put your MP3 player or whatever on random.
Step 2: Post the first line from the first 20 songs that play, no matter how embarrassing the song.
Step 3: Post and let everyone you know guess what song and artist the lines come from.
Step 4: Strike out the songs when someone guesses correctly (No lyric hunting! That's cheating!)
...I skipped the ones that I've been meaning to delete or that you had zero chance of knowing. Has anyone else even heard of Kraftwerk? XD
I also had to take out "Rock Me, Amadeus" and "Bak Et Hallelujah," because German and Norwegian aren't particularly fair. Sad panda. D:
I got quite a bit of variety, though. Wow, iTunes shuffle; WOW.
...except for the fact that it favored two different albums twice each. XD
1. The winds of fortune don't blow the same / She had to get out and make a change
-
icequeenrex - "Hit That" - The Offspring -
2. It's far beyond your reach; it holds a place in time / Somewhere ahead is the back of the line
-
missusjackson - "Summer" - Sum 41 -
3. Listen now, and let me speak / I will be the dog at your feet
-
sabriel75 - "#1 Zero" - Audioslave -
4. Sister, I'm not much / A poet but a criminal, and you never had a chance
-
sabriel75 - "Thank You For the Venom" -
5. You fight me; flat on my lonely face I fell / Finding, in the end, I live well
-
missusjackson - "You Fight Me" - Breaking Benjamin -
6. There's a calm surrender to the rush of day / When the heat of the rolling world can be turned away
-
happy_mystic - "Can You Feel the Love Tonight" - Elton John -
7. Hey, you, see me, pictures, crazy / All the world I've seen before me passing by
-
missusjackson - "ATWA" - System of a Down -
8. Don't waste your touch; you won't feel anything / Or were you sent to save me?
-
sabriel75 - "The Leaving Song, Pt. 2" - A.F.I. -
9. I was sitting on the fence / And I thought that I would kiss you
-
icequeenrex - "Ring Ring" - Mika -
10. Can you hear the drums, Fernando? / I remember long ago, another starry night like this
-
happy_mystic - "Fernando" - ABBA -
11. My hands are broken / And time is going, on and on it goes, forever
12. You were once my one companion; you were all that mattered / You were once a friend and father, then my world was shattered
-
happy_mystic - "Wishing You Were Somehow Here Again" - Phantom of the Opera -
13. Lately, I'm all right, and lately, I'm not scared / I've figured out that what you do to me feels like I'm walking on air
-
missusjackson - "Suspension" - Mae -
14. I walk a lonely road / The only one that I have ever known
-
happy_mystic - "Boulevard of Broken Dreams" - Green Day -
15. When I'm with you, baby / I go out of my head
-
jdbracknell - "Just Can't Get Enough" - Depeche Mode -
16. I'm an expert reporter, wherever news is breakin' / I show up and find out what's shakin'
17. Well, that's it; don't wanna show you / That's it; don't really care
-
shiro_loli_pop - "That's It" - The Cars -
18. No more, the crap rolls out your mouth again / Haven't changed, your brain is still gelatin
-
sabriel75 - "Holier Than Thou" - Metallica -
19. Oh, baby, here comes the sound, I took a train out of New Orleans / And they shot me full of ephedrine
-
icequeenrex - "Give 'Em Hell, Kid" - My Chemical Romance -
20. Your eyes tell the stories of the day you wish you could / Recall the moments that once have...
-
missusjackson - "A Favor House Atlantic" - Coheed and Cambria -
Anyway. That was fun. And... enlightening?
In two days I'll be tech-rehearsing
Midsummer
. I is not psychologically prepared for this yet. ._.
Feeling: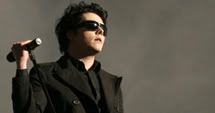 listless