Like a Post for All Seasons, only not quite.
When I was at the dentist yesterday, I observed many things.
Okay, three things.
1. So I'm the most ticklish person in the universe -- or at least in the continental U.S. I have trouble itching my own feet... and apparently my gums are ticklish, too. YAY. XD
2. As nice as your dental hygienist may be, it's really difficult to answer someone's questions when they
have their fingers in your mouth
.
3. They always tell me I do a really good job of brushing my teeth... but this time, I know for a
fact
that I haven't changed my toothbrush since
January
-- FOOLED YOU, SUCKAS! >DDD
...I also observed that I am a dork, but that's nothing new. XD
Okay, so -- GRAD SCHOOL IS SCARY. But I made an
insane
discovery --
most of the schools I'm looking at will pay my whole way to a PhD
. That's right. If I get into their PhD programs -- which admittedly is a fuckload easier said than done; Columbia accepts 2.7 percent of their applicants, NYU takes 2.2, and I forgot to get stats on the others, but they're largely in kind -- as long as I'm keeping decent grades and doing twenty hours of T.A. work a week, they will pay for
everything
.
My mother went to professional school for accounting, and my dad went to law school, so I had
no idea
that this was how it worked. WHOA, SHIT, GUYS. O_o
So... it looks like I'll be condemning myself to four to six years of soul-slaying English study to become Doctor Tierfal,
the Gregory House of Grammar
. Because, like I told my mother, "Sure, I'll suffer for free!"
...I get the feeling I'm going to regret this. XD
The good news is that I'll be able to take the 20,000 dollars that would be going to my fourth year of undergrad and use it for whatever I want -- car, plane tickets, whatever. (And by "whatever," I mean, "Eight million application fees." XD) The excruciatingly bad news is that I need a
kick-fucking-ass
application by December, and between the different apps, I'll need a damn good 10-12 page paper, and a damn good 15-25 pager. I have a kinda-I-think-it-was-okay paper from last year that comes in at eleven pages.
So my new plan for August is to write a fifteen-page academic paper that makes me look brilliant.
FUN. >_>
I figure I'll probably write on heterocosms in Shakespeare, since I can basically cobble three essays together that way by talking about the concept in three different plays. Shit, I wish I hadn't left my Complete Works at school. EQUALS FAIL. >_> It's a good thing they're all on teh internetz, but I like hard copies for this kind of thing, since you can't bookmark a line number on a webpage.
But... yeah. Expect agony and panic in November. Expect possible not-doing-NaNo. Expect preparatory agony and panic in October, when I have to take a GRE
and
a GRE subject test in English literature. So basically a slightly-shorter version of the SAT, but the grad-school way, and you have to go into a special testing center and do it on their computer.
I AM SCARED. XD Even though I tend to do pretty well on standardized tests. And my GPA is pretty target-area for all the schools who will tell me the average one for the students they admit.
Another issue is that Berkeley apparently has the best English graduate program of any school in the country. But with my gnat-approved attention span, I really don't know if I can handle half a decade longer there. And it might be nice to try somewhere *NEW*,
and I'm secretly in love with New York City without ever having been there,
but then I'd be vry vry far away from my family and my
eltea
. ._.
Anyway... combination of excitement, amazement, and utter terror. Favoring the utter terror. XD
Today, though, my mom, my sister, and I went out and had supar-tea at this place nearby that does it. It's a chain of high-tea-y restaurants, and they give you tea and finger sandwiches and all sorts of things, and the ambiance is adorable, and it's like *SHINY* and stuff. XD And THE FOOOOOOD, /dies. I had pineapple-papaya-mango tea, and a set-up meal that had a chicken croissant and almond-and-cream-cheese sandwiches and a blueberry scone and a warm brie pastry. And then for dessert I had passionfruit sorbet with a white chocolate coating and almost DIED of foodgasm. XDDD I didn't take my phone, because I thought it would be a little gauche to be snapping cell phone pictures of my
food
at a place like that, and my bestest seven-dollars-at-Goodwill sundress doesn't have pockets anyway, but I wish I had, because everything was insanely pretty. XD And my tummy is like, "I LOVE YOU." XD
What else, what else. Uh, yesterday I turned
Doctor Who
into an
English Shepherd
. IT'S COMPLICATED. XD
And I've been watching my sister play a lot of "
Lord of the Rings: The Third Age
," which has, oh-so-very shockingly, rekindled my utter adoration for the series in one fell OC-filled swoop. XD (I totally ship Berethor and Idrial. Even though apparently the only reason she loves him is because he doesn't let her fall and die when the Bridge of Kazad-Dum in Moria starts to crumble. Which is kind of like, "Uhh, I
hope
he doesn't let members of his party plummet to their deaths; he'd be a pretty shitty leader if he did..." XD ...well, I guess he does have pretty rad hair. But, like, Elegost is the hottest. So idk. Also, why the crap am I talking about this? XD The Oh-No-You-Din't-You-Ho drama with Idrial and Morwen amuses me immensely, though. XD)
...so THAT was important. XD
Oh, I'm now 730 words in to Saturday's "Chocolate" chapter. And you're like, "
Another
Madonna-based joke?", and I'm like, "HELLZ YEAH!!"
That's probably the part where you start to cry. XD
Feeling: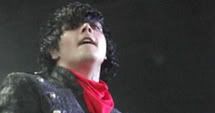 geeky