I AM IN LOVE WITH A TELEVISION SHOW.
...AGAIN. 8D
But first,
the last of a dying breed
: my final
brigits_flame
entry. XD Turned out better than I expected
given that I bitched about it every sentence of the way
.
I was too busy whining to mention that another doujin from
jenwryn
came on Friday. ajklfdjslkfjsa I love you so much, bb. x) You make me so darn happy. x3
Some of you may have heard of "Doctor Who."
Some of you may have seen every single episode and therefore know why I am flailing. XD
SO. Season 1. Christopher Eccleston and Billie Piper.
omg I love them. :3 Independently and together. XD
But yeah,
eltea
and I started the first episode at... I dunno, 5 PM, and we finished the thirteenth just before 9 AM. XD There were lots of breaks for things like story editing and popsicles and God knows what else; it wasn't nonstop. That probably would have killed even us.
And we kept pausing it to give commentary/squeal/chatter like fandom-savvy squirrels.
:D
I guarantee I'll forget one of the things I meant to flail delightedly about, but this is a start. XD
1.
I was trying to get a doujin back into the protective plastic envelope after showing it to
eltea
. It didn't want to go. XD
tierfal
: I swear this wasn't as hard the first time I was trying to get it in.
eltea
: ...THAT'S WHAT SHE SAID.
I LOSE. XD
2.
"VICTORY SHOULD BE NAKED!!"
- the Slitheen
(This is my new life philosophy.)
3.
Rose very cleverly created a HUGE time paradox. All you need to know, non-spoilery-wise, is that she and the infant that will grow to be her are in the same place.
tierfal
: (frantically) Don't touch yourself!!
(
eltea
pauses the episode so that she and
tierfal
can laugh very maturely for at least a minute.)
4.
I love Mickey. He's so hopeless and adorable. XD Come to think of it, he reminds me a bit of Matsuda.
5.
It has become increasingly difficult to resist the urge to speak with British speech inflection patterns. I kept breaking out in my bad accent when making commentary. IT'S CONTAGIOUS. O_O
6.
Speaking of accents, LOL at Brits being Americans. XDDD Actually, it wasn't as bad as it could have been; the supposed inhabitants of Utah mostly just sounded
slightly
wrong in "Dalek." Cap'n Jack (more on him omg XD) sounded irksome to me for the first thirty seconds of his dialogue, and then he either got a lot better, or I got used to it. Or he distracted me with his fine, fine,
fine
, seduce-everything ass.
Not that I mind either way. 8D
7.
"The Empty Child"/"The Doctor Dances" was
seriously
the best hour and a half of television I think I've ever seen. o frigging mg. Fucking
brilliant
. The only downside is the fact that it makes all American television I've ever seen look like utter crap. XD Wait, another downside -- immediately after we'd finished (this is the one set during the Blitz, with Jaime the Horrifying Undead Small Child seeking his mummy):
eltea
: Now I
never
want to have children; I never want to hear
anyone
say "Mommy" to me.
tierfal
: Birth control by British television!
eltea
: Birth control by ZOMBIES!
8.
FUCKING JACK HARKNESS!! (By which I mean, "Yes, I would like to fuck Jack Harkness.") Oh, my GOD, meet my new favorite character in ANYTHING. 8DDDD It took all of a minute of his screentime for
eltea
and me to look at each other and go, "We need to watch Torchwood next." *___*
Seriously, though. SERIOUSLY. Every time we thought he couldn't get any more awesome, he pulled out a gun and pwnt the shit out of someone. I AM IN LOVE. 8D
9.
Partly just from the episodes I'd previously seen, David Tennant
is
the Doctor to me, but I
loooove
Christopher Eccleston, too. He is adorkable and awkward and amazingly deadpan and just superfantastic. 8D
Which is not to say I didn't squeal when we got twenty seconds of Tennant at the end of "The Parting of the Ways." It's not my fault -- he's CUTE LIKE A PUPPY! O_O
10.
I don't know why there are brutal pairing wars in this fandom. I'd seen a bit of Martha, a little bit of Donna, and a little bit of Rose, and now I've seen a
lot
of Rose, and I
am totally in love with her, too
just adore them
all
. Fandom, why so averse to massive, ship war-curing orgies? XD
I totally ship Jack/Nine/Rose, for instance. And Jack/Things That Move. And I'd totally write/read/fap to a femmeslash threesome with the girls. XD
11.
Every episode made us howl at the screen (Doctor Who cast, why no self-preservation instincts? XD), "Father's Day" made us cry, and "The Empty Child"/"The Doctor Dances" made us cower and cling to each other in abject terror.
THIS
, my friends, is television. 8D
I should edit this to make sure it's coherent.
BUT I WON'T. XD
Feeling: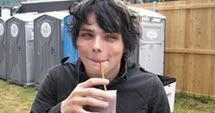 happy