Write or Die
works
amazingly
. I've got 920 words of my
metamorfic_moon
fic that definitively were not there earlier today, and it only took five minutes and then twenty later on. INSANITY, I tell you. There's a hope for NaNo after all, but if I give it any ground, it will destroy my plans to get into grad school and crush them to death.
With a smile.
Speaking of grad school, looked up a few more today. Also bought the vast majority of my books for next semester on Amazon. Will be taking the Scary More Units Than Ever Before-Making Fifth Class for certain now, if only because the zillion required books cost me almost a hundred dollars by themselves.
I have three completed Death Note fics that have been sitting around since the end of June, but I bring you
Who-fic that I wrote yesterday
instead of any of them. (And I'll give it a proper icon once I've
gotten depressed enough to spend a day making some
found one I like.)
My brain, it is broked.
Today's brilliant moment goes as follows:
tierfal (12:49:40 PM): I got up at ten, got dressed and out to the living room by ten-thirty, and then passed out on the ouch until twenty minutes ago when my mom and my brothers came back from the park. XD
eltea (12:49:57 PM): XD!!
tierfal (12:49:51 PM): But my dream had fanfiction and zombies, so I guess I sort of win. :P
eltea (12:50:02 PM): :P!!
tierfal (12:51:36 PM): I dreamed that there was this famous website (which also had a magazine they published for some utterly unknown reason) which reviewed fanfictions, and they always found something they didn't like, but they'd given
Caveat Emptor
an A- and largely were impressed with it. Then as I was showing you this at the place where you worked (I'm ninety percent sure it was you, at least XD), I was wandering through as we reflected on the fact that ice hockey originated in Korea rather than Canada or somewhere, which we would have expected, and zombies started coming after me and two guys who I have no idea who they were. XD
tierfal (12:51:42 PM): ANYWAY, it was really weird. :P
...I think I ended up hiding from the zombies under a table, and I believe I beat at one with my fanfiction-review magazine.
...if you were curious...
Maybe I'll go Write or Die some more. IT'S LIKE MAGIC. O_O
Feeling: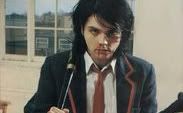 okay
On the Radio: "All the Same" - Sick Puppies