I want
this
. BADLY. Even though I never run out of USB ports. XDDD
Though, after a while, the sound effects would probably drive me insane. XD
Anyway, I promised you a WIP meme, and now I'm going to deliver. :3
Oh, Define WIP, though -- something I'm working on? Something I'm
actively
working on? Something I intend to finish before I die? XD
Post a sentence from as many of your WIPs as you want, with no explanation attached.
Okay, so I decided to be a good girl this time and not tell you which is which, but I'll warn you that there's no "Chocolate" in here, and there
is
a long-since-due fic for
icequeenrex
and one for
chamyl
. And some of these are reallyfuckingold but I swear I'll finish them. >____>
...and I cheated a little with the "one sentence" bit, ahem.
1. Matsuda scowled, gathering his plans, and muttered over the shuffle of sheets, "Captain Compulsive strikes again."
2. When there was no argument—at least, Matt didn't seem to be counting venomous glares as an argument—the redhead sauntered off to the kitchen and commenced bustling and banging around as much as humanly possible.
3. Light tugged his black fingerless gloves more firmly into place and swallowed.
4. Mello blunders her way into the kitchen the next morning, all disheveled hair and bleary eyes, and Matt's hand doesn't even shake as he smacks a mug of hot chocolate down on the tabletop.
5. In any case, my brisk run through the dim streets soon bore fruit: I caught sight of Remus wandering by the wrought-iron fence about the park, peeking through it with the sort of absent interest he took in most things that weren't books or red meat.
6. ...well, who's to say that it won't come in handy to know how Teru Mikami takes his coffee?
7. Gevanni didn't try to seduce Mello in the lunch room regardless of who was in there doing the unthinkable and
eating lunch
, which meant that Mello liked him.
8. There was a pause, and then Theo carefully sat up, the better to look at Nick as though he had eliminated all of the bad Terminators only to don a suit and govern the state of California.
9. The especially observant might notice that L is leaning forward, and Light is leaning back, his arms out to either side to support him, and, from certain angles, it almost looks like one of his hands brushes the pale wedge of his colleague's skin that shows in the gap between sweater and slacks.
10. Arthur was not totally and completely emotionally oblivious one hundred percent of the time.
11. "I don't hate you, Yagami-kun," he says. "It's far more productive to imagine scenarios that end in your untimely death and move along."
12. Mello shoved a drink into his hand. "Less talking," he ordered, "more drunken shenanigans."
13. "It means a great deal of very complicated things that I'm not likely to explain to you at two in the morning," the Doctor replied, "or ever. Goodnight!"
...now you know why I never get anything done.
Okay, that's not entirely true; I actually finished 5. today in something of a coup, most of the credit going to
Write or Die
. And it's my
metamorfic_moon
fic, btw. In case you were wondering.
8. needs to be finished in nine days' time. That is bad, bad, bad news, especially since 13. looks really, really delicious.
Now you also know why I can never keep track of what damn tense I'm writing in, since it's almost fifty-fifty these days. XD
Mmm, while I'm blathering about fic shit anyway, I wrote a drabble about Sarah Jane today.
Yes. Sarah Jane.
I'm going to poke at it; hopefully I'll have it available tomorrow for any takers. XD
Feeling: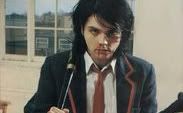 okay
On the Radio: "Bleeding Love" - Leona Lewis