And then there he was
In ripped-up, wrinkled jeans
Yeah, there he was
Hope that's what "Justice" means

I smell plots and candy here
Who's that curled up in my chair?
Who's that eating éclairs
And raw strawberries
Ryuk, this Death Note is a scream
Yeah
Oh, Ryuk, this Death Note is a scream
My absolute, hands-down, favorite thing about Death Note is the intelligence.
All right, there are enough plot holes in the grand scheme of it to make Swiss cheese jealous -- which is what Ohba gets for not planning the whole thing out from the start -- but I put that aside in favor of the bigger point here, which is that virtually
every
character in this series is brilliant.
I maintain -- and it's partly just personal canon at work, though there is evidence to back me up -- that characters like Misa and Matsuda only look stupid because they're literally surrounded by geniuses. (If you don't believe me, remember that Misa kept L guessing for a long time and actually covered her tracks pretty well with the Kira tapes -- and that she pwned Higuchi so hard that his mama felt it.) As much as I do love them to little pieces, of course, it's the geniuses that I'm fixated on. And while I certainly wouldn't call myself a dim bulb, I'm not at their caliber, but that's half the fun. My job becomes understanding the way they think, even if I can't replicate it in my own logical process -- understanding them, and finding and defining the emotional anchors that tether their incredible intelligence to characters more human than I think their creators realized.
The thing I love most about the Death Note boys is that their brilliance is a curse -- a crippling, damning detriment that manifests differently for each of them .
I love that L is socially hopeless -- I love that he spends large parts of conversations either ignoring people or rolling his eyes. I love that Aizawa thinks he's an asshole. I love that he kind of is. I love that legions of fangirls think he's a panda, and the creators talk about him being evil -- and I love that the mentions of Eraldo Coil and Deneuve give you a chance to wonder. Most of all, I love the strange, slightly inhuman beauty of this bent-backed, sleep-deprived, hair-in-a-wind-tunnel idiot-savant, and I love his overwhelming compulsion to fill the emptiness of his Gothic-letter-bound life with candy and cake and sugar cubes. (
eltea
wrote an absolutely
amazing
drabble about that once, one of many, many things she's written that have irrevocably changed canon for me, but it's in a friends-locked post. I'll keep pressuring her to put it on
duck_diaries
, never fear. :D)
Also, I wish wish WISH I knew who drew this: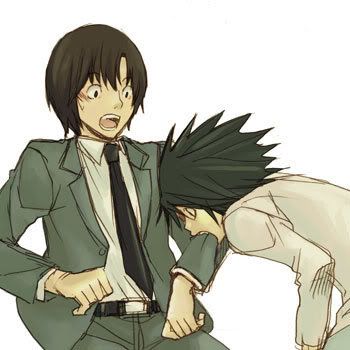 ...because it makes me laugh every time. XD
I love that Mello is a lunatic. I love that he's so consumed by his desperation to succeed -- and to
exceed
-- that it completely destroys him. I love that there's nothing he's not willing to sacrifice -- this from a character wearing a rosary. I love that he knows how he looks, that even with half of his face shredded and hastily healed behind the scenes, he's a total tart who pushes everybody around with his own sex appeal -- and that at the same time, he's the biggest ball of unresolved insecurity in the entirety of canon. I love that anyone who says Mello hates Near is not paying attention. (If you doubt me, try the chapter where Mello sends Mogi to the SPK, and
he and Near gang up on Light
while they're on the phone.) I love that he's brilliant, and stupid, and breaks. I love that in the end, Kira -- vengeance -- L is more important than his pride.
I love the chocolate.
And the fact that Mello is the only person
alive
who can make a bar of plain milk chocolate produce the onomatopoeia "crunch." (Seriously, what the hell? XD)
I love that Matt turns to video games because they're safer than people -- but that Mello lets him get away with anything. (Think about it -- if one of the Mafia men had
missed
Mogi and Misa frolicking off to the airport and slacked off as much as Matt does, Mello would have had the culprit's head.) I love that he has a grand total of about ten lines, but we all feel like we know him. I love that fandom has claimed him so possessively that I don't think I've ever read a fic with a brown-haired Matt. I love that he gets one of Mello's two canon apologies -- two, in five and a half books. (The other is to Soichiro. Stick that in your pipe and smoke it. Or just read
Name and Face
.)
I love that he's a geek, and that he's almost as socially-backward as the rest of them, but in a way we recognize as societally acceptable.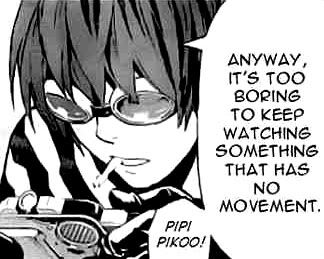 (Incidentally, that is the most adorable sound-effect bubble I've ever seen. XD)
I love that Near is arguably the smartest person in the series, and he looks like he's twelve years old. I love that he's so much like L, but different, and worse. I love that he lives in a toy world lit by computer screens, and he's scared to go outside. I love that he knows what he's wrought. I love that he doesn't know how to fly on an airplane alone. I love that he spends the vast majority of his time on the floor, curled up even smaller than usual. I love that he's even more monochrome than L. I love that he's ruthless. I love that he's petulant. I love that he's smarter than any child but deliberately acts like one. I love that he came here to kick ass and throw darts, and he's all out of darts. And as much as I bitterly hated losing all the others, I love that he's the only one that makes it through -- that the weak, fragile, tiny little boy in the white pajamas is the bloodbath's only survivor.
I love that he's tentatively human underneath the tissue paper skin.
I don't love that so many people are so petty as to hate him because he does what he came to do -- he wins.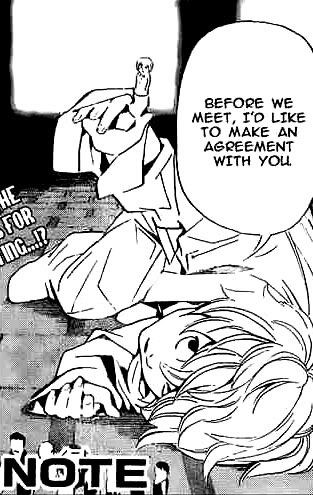 Anyone who thinks Near hates Mello
isn't paying attention, either
. Yes, that's a chocolate bar, and the only thing we ever see Near eating.
I love that Mikami is more OCD than Adrian Monk. I love that he's brilliant, and sympathetic, and so, so
wrong
. I love that he's alone. I love that he dedicates every fiber of his being to the first thing that seems fair in the whole of his existence, and I love that it tears him apart.
I love that Light's the only one who's got his shit together. I love that he knows people trust him because of his appearance and shamelessly manipulates them with it. I love that a dutiful, charismatic schoolboy becomes a sociopathic megalomaniac when one variable shifts. I love he's literally too smart for his own good.
I love Matsuda. I love Aizawa. I love Ide. I love Mogi. I love that they're minor, simple, and frequently backup comic relief, but they're incredibly distinct and completely full of personality.
(I would jump for a Task Force orgy
so
fast; you have no idea.)
I love Ryuk.
I love the things the manga has that the anime lacks. (Also think crucifixes and God knows what else; I haven't seen the whole thing, and the missing details are a large part of why.)
Yes, that's Near, with a toy gun, as Mello uses a real one to bully his way into Near's sanctuary.
I love the brilliance of so many of the artists who are drawn to this material and enrich it with every project they undertake. I love thinking about how little Ohba and Obata put in tossing all of this together to give Japanese kids a thrill ride, and I love the absolutely ludicrous quantity of art, literature, discussion, and debate that we tease out of it.
Sorry, I wish I knew whose it was.
I love the tragedy.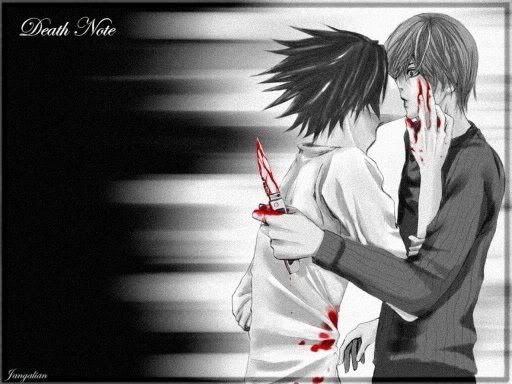 I love the comedy.
I love it all. ♥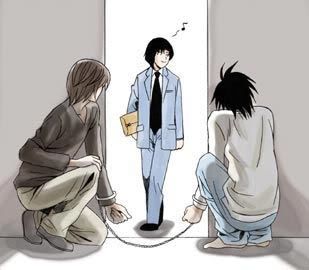 Feeling: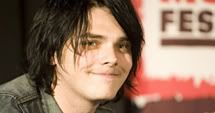 pleased