I binge-cleaned the Desk Region of my room today. It was intense. I had to get most of my shit together to leave for school Monday. Pandas weep.
Umm... bunny.
It looks kind of scared.
I should probably bookmark the URL as "Plot Bunny" and stare at it for inspiration.
Bunny: O_O
Ummm... I forgot to mention how on Thursday, I got to watch
eltea
do her Frighteningly Brilliant thing again. Like, whoaaaaaa plz. :D
I wish you all could see her go at plot stuff/plot holes/making her own plots, because it's seriously like nothing else in the universe. For those of you who hadn't gathered,
eltea
is a genius -- not like "I love every film that director has ever made; he's a genius"; a
genius
genius. Okay, both: she's the most outright creative person I know, as far as concepts, connections, innovation, and invention, but she's also an I'd Talk About Test Scores But She'd Get Embarrassed kind of genius.
Other than being the queen of crossovers as far as linking two very different canons and matching up their pieces, one thing
eltea
likes to do is poke plot holes. She finds them, kicks them, fiddles around a bit, and then reassembles them into much more coherent things that she likes better, and that actually make
sense
.
With *style*.
Anyway, on Thursday, we were talking Doctor Who, which is a show with fifty years of history, currently written by a lot of very intelligent people. And
eltea
whipped out her logic and just...
shredded
a crucial part of canon. Fucking SHREDDED it. There were a couple holes I'd noticed as we'd been watching and after the fact, but she turned it into Swiss cheese, melted the cheese, and then rebuilt it into a gorgeous and incredible cheese sculpture.
Like this.
Watching her do this, which is a privilege I have a
lot
, is seriously like a religious experience, except with a lot of "Yeah"s, "Whoa"s, and "Holy crap, you're right"s on my end of the conversation.
It's also pretty frigging mind-blowing when she just
makes stuff
out of
nothing
.
Even in Harry Potter, people can't do that.
Fun factoid for you -- on Valentine's Day this year, I wrote the
first chapter
of "Chocolate Always Loves You Back," because my original V-Day fic was tanking. At the end of the day, I had 1,500 words of "Well, this sounds fun." I had
zero
plans at that point. (I don't do plans. Which is often very bad. XD)
If you haven't read the fic, it's extremely specific even from the start, despite the fact that I had nowhere for that specificity to go, and a few nights later,
eltea
and I were at
richelle2972
's, watching movies and stuff until four in the morning or something like that.
In the time it took
richelle2972
to brush her teeth, wash her face, and otherwise get ready for bed,
eltea
made up the plot of my 40,000-word fic.
(You're like "DEEYAMN," and I'm like, "IKNORITE.")
Anyway... I'd tell you more about the DW thing, except that we're trying to turn it into a fic. Which is difficult, because it's so frigging streamlined that it's hard to find enough conflict to sustain a story. XD
The point is,
eltea
's brain is like a freight train, and the rest of us are on unicycles.
I'd videotape her sometime to share the nirvana, but I'm a very selfish little girl. :D
I just wanted to share that with you or something. XD
Feeling: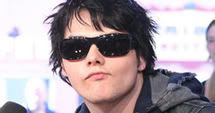 impressed
On the Radio: "Wait" - Earshot