...my entry titles just get more and more creative as I go along, don't they?
Why am I so tired? Oh, right, I got up before eight and walked well over four miles. That explains it.
*sleeps on keyboard*
- Page 3 of my "Short Story" class syllabus:
The stories you write for this class should work - more or less - within the genre of psychological realism. That is, stories that belong to the (long and honourable) traditions of magic realism, science fiction, fantasy, experimental fiction, etc., will not be accepted.
...yeah, thanks for the heads-up, man. >_>
eltea
and I have been trying to figure out loopholes all day, and I'm going to go to office hours next Tuesday and grill the guy about what exactly that
means
. Thanks for limiting my imagination; that's definitely how I wanted to start the semester. XD His explanation is that we just don't have time in a workshop class to do justice to the traditions of all of those genres, and we have to focus on the most common one, and I understand that, but... I can't write about Vincent. The way he defines it, which I immediately asked about -- "You can still have an unreliable narrator who
thinks
fantastical things are going on, but the reader shouldn't have to believe in any of those things" -- means that I couldn't even write something like
"Mortals"
, or even
"Flat"
. I write rather a lot of what I've started to think of as supernatural realism -- stuff that's basically set in a real Earth world, but with a supernatural presence or influence, possibly even in the alteration of just a single variable.
This is also what I consider Death Note to be, and it's probably my favorite genre, all things considered.
I write a lot of stuff that would work by his rules, but I just don't like feeling
limited
, and I'm annoyed about it. :| The least he could have done was warned us that this would be the case before we signed up; I still would have taken the class, but tacking it on under the assumption that every creative writer in Berkeley wants to stick to things that "could happen" is reductionist and, frankly, a bit insulting.
Pff, either way, I'm still going to try to write something so fucking fantastic that everyone in the class starts to look at me differently. XD' Which will be a big deal, to me, because it looks like we've got a lot of "I AM A WRITUR LOOK AT MY COOLNESS" types.
But we know how I am with snap judgments, lolfail. XD
- ...what the hell else did I do today?
- I bought chocolate. I've already eaten a ton of it. I really do think it's this city, this apartment, being in school -- I was
fine
at home; I went for weeks, but here I just can't go without it. >_>
- Still working on the thing for
icequeenrex
from that ask about a character meme. *seppuku* XD
- My Greek Religion teacher has a British accent. Which I knew he would from
ratemyprofessors.com
. This clearly did not affect my decision to take this class at all. OF COURSE NOT. >______>
- Uhhh... I made it into Theater 11 despite my dollop of failsauce. *\o/*
- I read "Those Who Walk Away from Omelas" by Ursula K. LeGuin for my Monday class
because I was bored/procrastinating enough to do homework
. I think we read it in the tenth grade as part of our utopia unit, but I was still on a LeGuin-hating trip after
The Dispossessed
(I will never touch that book again; I hated every page XD), and it was more interesting this time. Which surprises me... not at all, since it's been, y'know, four years and a lot of formative experiences. XD
- Someone is
finally doing American Idiot
as a musical! O_O And it's the Berkeley Rep, which is the theater right across the street! And tickets are only 20 to 30 dollars if you're under thirty years old! And it's directed by the guy who did "Spring Awakening," which
eltea
saw last year, which was.... terrible.
Uh oh.
I dunno, at this point, I think I'd rather turn the CD up really, really loud for free and let Billie Joe sing the songs he wrote, because I love the way he sings them, and I don't think I'd actually
want
to see someone else reinterpret something I love exactly the way it is.
You know?
Ffff, also, I'm a fucking cheapskate. XD
* - Oh, also, I think I made the day of the woman giving out the bus passes (which let you ride on the city bus for freeeeee if you put the sticker on your card). Or at least her hour. The girl before me was really confused and chirpy anyway, and the lady was kinda like ">_>;", but then I was like, "Hi!", and when she asked me how I was, I said "Good! How are you?", and she looked really happy that I'd actually asked her in return. XD
Little things, little things. :)
I'm sure I had other things I wanted to say, but I honestly can't think of any more. XD
Typical me.
I told you that creative writing class was going to kill my soul. I CALLED IT. XD
Though, haa, speaking of calling things, I was totally walking out of my Greek Religion class thinking, "Maybe I should call
eltea
" while I unwound my iPod headphones, and then my phone rang, and it was her. XDDD
THE SKILLZ THAT KILLZ, FOLKS.
I need to sit down, shut up, and work my ass off this weekend. You're allowed to place bets amongst yourselves regarding how much I'm actually going to get done.
In fact, I encourage it.
I don't know if that's actually legal. Let's pretend. XD
Feeling: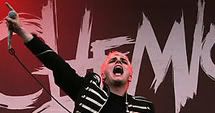 aggravated
On the Radio: "Mean" - P!nk