By "this," I mean, "I am on another computer, because my computer sucks like a black hole."
I am on
eltea
's old computer, in fact, which is a Mac. Which is trippy. Just. Things are in different places and stuff. XD
We had nothing but Macs at all my schools back in the day, and I practically live with
eltea
a lot of the time, so it's not like this is a completely new thing, but it's just WEIRD to be doing all my Regular Old Me Stuff on a computer that does not seem like a Regular Old Me thing. XD
It's just weird. Trust me. XD'
Umm, yesterday, I learned how to say "How are you?" in Swedish a couple different ways, and then I learned that acting is a metaphysical distillation of You-ness, and we're all in this together in a technological world that is increasingly about hiding behind screens and not being truly vulnerable and baring ourselves (okay, it wasn't quite that bad, but it sounds like this dude is going to make us work our asses off, which is kind of what I signed up for, but eek nonetheless XD'). A girl in Th11 who's from Australia has an accent that sounds a lot like
jenwryn
's, though, and it just makes me happy in the littlest, silliest way. ♥
Uhhh. Then I slaved over my Swedish homework and battled online dictionaries for pretty much a million years, because it's hard to fill pronouns into the blanks unless you've got the basic gist of the sentence, and I don't know any words. XD
And then at about nine-thirty or something, my computer started crashing and crashing and crashing and... well, the hell with that. It's been lucky so far in that rescuing files is really, really easy booting it up in safe mode, so today, since
eltea
was going to visit anyway, she brought me her old laptop and a nice USB stick, and I just moved over all the shit I've been working on and might need in the immediate future.
And then we wandered around forEVER looking through different thrift stores and having
no luck whatsoever
as far as Halloween costume-like items. XD' At least we got good food and an endless walk out of it. Then we hung out a bit more and talked about the physics required to simulate gravity on a space station. Or she did, and I nodded and looked at the nice diagrams and went O___o a bit and was generally in awe of
eltea
's ability to understand material that didn't even quite make sense to me while I was taking AP Physics in the eleventh grade. XD'
But yes. I wish everybody had an
eltea
, really. I think the world would be a much nicer place.
Pff,
my
world would pretty much crash, burn, and collapse if it wasn't for her, and that's the story of things. :)
Ummmmmm... yes. I've finally finished with that damn attack bunny, but only very first-draftally. Lots of it's still on
paper
, for heaven's sake, from writing the end last night. What's PAPER? XD
Oh, yeah, it's that thing I also started the final chapter of "Chocolate" on this morning. XD God, I'm so tired; maybe I'll cop out (GEDDIT) and type that up tomorrow. XD'
*ded*
*but good ded*
*also probably going to be converted to a Mac person, sorry Friends of the PC; hot damn this thing is so shiny and intuitive, haha XD*
*also IBM YOU HAVE FAILED ME FOR THE LAST TIME*
*also BERKELEY YOU'RE A STUPIDLY THRIFTY TOWN WHY DO ALL YOUR THRIFT STORES FAIL AS MUCH AS IBM*
...yes, I'm going. Hopefully to bed, very soon. XD
Feeling: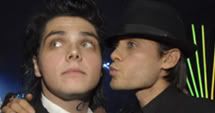 loved