I'm glad SOMEONE has their priorities straight.
Umm... my life is extraordinarily unexciting right now. XD Even for me--!
Some undisclosed portion of the Theater 11 class is going to have to do their scenes tomorrow. I think Joseph and I are totes ready, provided that he has a good run -- he tends to drop an average of one line every time we practice it, and a different line every time. XD Let me tell you, though -- this kid is *awesome*. :D My partner last year was just the WORST, as some of you may remember, and Joseph is funny and committed and cares about what we're doing, and it is like a lung-splitting breath of fresh air. XD
Buuuuut yeah, that should be fun. Maybe. I hope. XD
Also, I got stood up by Professor Nelson at office hours today. He had scribbled out "Tuesday" and written "Thursday" in its place. Yeah, thanks for warning me two weeks ago when you told me to come back, man. XD
In other news, such as the news is, I've been listening to a lot of the songs I wrote
TEIN
to and getting all nostalgic for it. XD
The part of the list that I've been stuck on lately looks a little something like this:
*
Bad Boy
- Cascada
All About Us
- t.A.T.u.
*
I Kissed A Girl
- Katy Perry
Hot N Cold
- Katy Perry
Wings of a Butterfly
- H.I.M.
*
Somebody Told Me
- The Killers
Mr. Brightside
- The Killers
...yes, my whole purchased list is like this. Sometimes far worse. 8D
Starred songs are ones that made it directly into the fic. XD
All this talk of NaNo (God, you guys plan ahead XD) has been making me think about it even more, trufax, because TEIN is what I was doing a year ago and then through into early November. XD
Anyhoo... yeah. While we're on the subject of fic, I'd better go type up what I wrote in class/waiting for it today. XD I think part of the reason I've been relatively content lately is that I'm writing less, but pretty consistently, and it mostly doesn't suck. XD
While we're still on the subject of fic, have some
MARTHA FIC
! 8D ...why, yes, it is another in the Depressing Who Drabbles series, /I am lame XD'
...no, I wrote a cute one yesterday. I'll try to get that one together for you soon. XD
Feeling: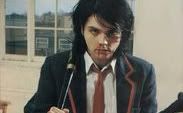 okay
On the Radio: "Senses Capture" - Leaves' Eyes