Today was too long and too complicated, and at the end, I forgot to get a new gallon of milk. TEH FAILZ.
So instead of getting shit done tonight, I spent the time watching Doctor Who-related items on YouTube. 8D
Okayso. How much do I love John Barrowman?
THIS MUCH.
:D
Also, if you haven't watched "The Infinite Quest," a.k.a. the Martha-and-Ten animated Doctor Who episode but not really sort of THING...
you should
. XD It's a little campy and a little silly and TOTALLY addictive and full of cliffhangers, so make sure you've got, like, an hour to sit there and watch the whole damn thing. XD Also, it's real cast voices, trufax. And your ears do not deceive you -- Anthony Head is, once again, the villain. XD'
One last one...
this
makes me stupidly happy. XD And I don't even
like
"Friends." XD
WHAT I HAVE SHIT I SHOULD BE DOING I DON'T KNOW WHAT YOU'RE SAYING I CAN'T HEAR YOU I'LL LEARN TO READ LIPS NEXT TIME LA LA LA.
*hides*
Oh, and --
this MLIA
gets SO many geek points. XD
Feeling: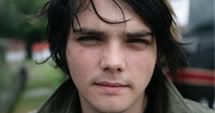 mellow