lol FF.net has been tripped-out all day, which was fun while I was answering four or five dozen reviews from the last two weeks. And which is fun now, when it won't send out alerts for the
new chapter of The Hunt
! XD
There's also
a snippet of Donna fic
.
And every time I watch "Supernatural," I realize why so many of you are totally into it, lol. I just saw this week's with my mom and my sister. EPIC. XD
I discovered some fun typos yesterday doing a spot of editing of the out-of-control Merlin fic. (Seriously out of control -- 7,200-words, and the backstory isn't even in place-style out of control. XD)
Gwen had wheeled a promise out of Merlin...
Oh, I'm sure she had. In a wheelbarrow. On a tricycle. With some rollerskates.
I've also been waiting my whole life to type this and
not
catch it:
Merlin was painfully aware of his faded jeans and his museum souvenir shop tee-shit.
/YES, I AM THAT MATURE
Ummm, also my mom makes me lol. I was talking Friday (while being really light-headed from lack of food/ambiguous possible-germiness/etc.) about how I'm totally losing my mind about all this grad school shit, and she was really nice about it. And she was later talking about how proud she is, how well all her kids have turned out, etc. and so on, and it made me very happy, especially since she's given me a few complexes over the years. XD'
Anyhoo:
Tierfal's Madre: Well, as we know, hindsight is 50/50. ...wait.
ilu, Mother. XD'
I also read
The Machine Stops
today, and that was AWESOME SHIT, man. o_o Forster predicting Skype in 1911 aside, it was just
legit
. I also read a bit of Wallace's
Infinite Jest
, which my superfab professor said was "kind of an advertisement, because it's... one of the most amazing things [she's] read. So if over Christmas, you have time to read a thousand-page novel...", and I'm kind of considering it. XD
Umm. Yeah. Some of you are going through tough shit right now, and here's hoping one more time that things work out okay. ♥
Feeling: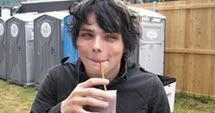 happy
On the Radio: mah mother flipping channels