"Between who?"
"I mean, the matter that you read, my lord."
"Oh, this old thing? It's called FUCKING AWESOMESAUCE!"
(...er, Hamlet, you feeling okay?)
It's done.
It's
DONE
.
DONEDONEDONEDONEDONEDONEDOOOOOOONNEEEEE.
8DDD
Yup. Expect the fun to start in the very near (GEDDIT) future, because "The End Is Near" has drawn to a superfantasmically glorious close. I'd be doing backflips if my failed attempts wouldn't end with me paralyzed. Seeing as how that'd be a bit of a setback and all.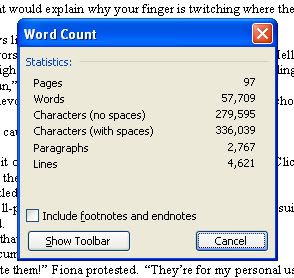 There'll be editing galore, but it's not going to change too much. Little bit of a pity I couldn't get to a hundred pages, but there wasn't really anything else to put in... XD
The final chapter plus today's drabble brings us to...
This completely vindicates how unbearably lame I was all day. COMPLETELY.
All due credit to
these guys
, because catching up on about eight of their latest videos cured my emo quite against my will. XD