So today
eltea
and I were talking about how bored we were, because no one's on LJ and we didn't feel like doing anything, and then she suggested we have an LJ party. But we were trying to think of events and failing, so... you'll find the verdict above. Basically,
THIS IS A PORN/KINK/WHATEVER MEME.
Rules, If You Can Even Call Them Rules:
1. Specify a fandom and/or a pairing if you want.
2. Be as anon or not as you want.
3. Be as porny/kinky/creepy or not as you want.
4. Write for as long as you want. (Except please don't stop in the middle, because that just ain't right.)
5. Give as many prompts as you feel like and fill as many as you can.
6. Re-fill a filled prompt if you want to. (Ooh, that sounds kind of dirty.) No one will mind.
7. JUST WRITE SOMETHING; WE'RE BORED OUT OF OUR MINDS OVER HERE.
Basically, just go for it. If you're feeling nice and generous and want to appeal to my organization kink (*meaningful wink*), include the fandom and pairing you want (if you have a preference) in the subject line of your request. When you fill a request, please put "FILLED" in the subject line. If you don't, I'll just secretly hate you, but that's okay. ♥
ETA:
Feel free to pimp this! In fact, please do -- the more the
merrier
, if you know what I mean.
Feeling: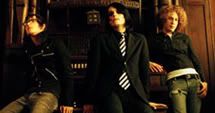 bored