Apartment stuff mediated and much better-taken care of. Situation no longer mortifying. Sighs of relief all around, or at least all around me.
I think I may still be unfit for human interaction. Meh-ity meh meh. Do not care. So over it. The hand is lonely; talk to it instead.
I started the potential epic win that I hope will be my first
Death Note
fic last night at an ungodly hour (which is, of course, when all the best things are begun). I will probably try to work on it some more today, but I really, really, really, REALLY don't want to screw it up. Because it will be so flipping snazzy if I don't. O, THE PRESSURE. O, O, O, O, O.
All this talk of
Twilight
merely serves to remind me of
my
all-time favorite vampire. That is,
Vincent
. I was glancing through my compilation document of Vincent-y things earlier, and I realized just how much I missed the dear boy. He is altogether too much fun not to get his own novel someday.
Anyways... yeah. I have an amazing and superfantabulous Photoshop project in the works, because obviously I don't have enough to do with my time.
Feeling: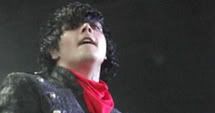 geeky