Earthyquake
just went down.
It's true; I felt it. Little one, though; didn't even knock my empty water bottle over...
YOU HEARD IT HERE FIRST, FOLKS.
...I was a bit concerned when things started shuddering, though, since apparently we're due for a huge-as-hell one sometime in the next decade or two, and the odds of it being on the fault that runs pretty much straight through my school are one in three.
We had a little tiny one last year, too. Wtf, California? Why are you strike-slipping and whatnot? D:
Feeling: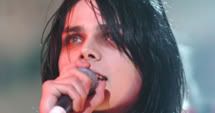 thankful