I've had "Getting Away with Murder" by Papa Roach on repeat all day today. To class, from class -- well, actually, most of that was talking on the phone to
eltea
, come to think of it -- and on the train to get much of the way home.
WHY, you ask? I'LL TELL YOU!
Because of MIKAMI! 8D
Yes. Mikami. I'm writing a... relatively... short fic with him in it (blame
eltea
and the renewed Drabble Game that cropped up at about eleven PM last night), though I shan't tell you anything more than that, because I'd rather shock the hell out of you when I'm done. Because I'm EVIL. >D
Anyway, the connection here is that a while ago,
eltea
showed me a really excellent MMV (like an AMV, only with stills from the manga, hence the acronyms) about Mikami to -- you guessed it -- "Getting Away with Murder." It's
here
if you wanna watch. :D And now I can't think about Mikami without thinking of the song and can't think of the song without thinking of Mikami, so... I finally caved at about two this morning and bought the damn thing on iTunes. :P
Really, though, the song was practically
written
for our pal Teru. I mean...
Somewhere beyond happiness and sadness
I need to calculate what creates my own madness
And I'm addicted to your punishment
And you're the master
And I am craving this disaster


Srs.
...is it wrong that I find Mikami really hot despite the fact that he's a mass-murdering psychopath? He's just misguided...! D:
...and gorgeous... :d The glasses... and the hair... Heeeee. 8DDDD
You say "raving, drooling, lunatic-fangirl" like it's a bad thing... D:
Feeling: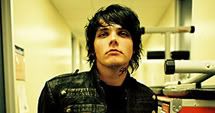 content