Sleepy.
Almost dozed off over my notes a couple times studying over lunch, in fact... Damn up-'til-four sorting my shit out on Sunday and then up-'til-two last night.
Hey.
I'd never written as Near before.
It was intense.
And crazy.
And you bet your ass I was going to sacrifice sleep for it. >D
What else... Survived the history midterm. Four essays in an hour and a half, egads. They sucked as much as you'd expect, of course, but I changed that class from "Letter Grade" to "Pass/Not Pass," so all I have to get is a C- average. >:]
...I don't think I honestly have anything else to say. XD Heavens, what a mundane existence I lead...
Good thing there's fanfiction. 8D
Feeling: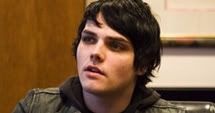 sleepy