You know you love it.
Run. Run fast.
omglolololololol. God, I get weird sometimes. XD
This was at a quarter to ten tonight. Last night. That time.
Brother: thank ye
Tierfal: XD
Tierfal: You bet...
Tierfal: And you owe me your soul, kinda...
Brother: aw man
Tierfal: Tough luck.
Brother: damn this sux
Brother: I <3 mah soul
Tierfal: XD
Tierfal: But you'll love your essay more!
Tierfal: Maybe...
....
AWESOME.
Once upon a time, it got late, and Tierfal and Eltea were really stressed, and there was much consumption of illicit substances. Somehow. Must've been the air. I swear I didn't eat nothing, officer.
First of all, Gevanni is a frigging stud in sunglasses: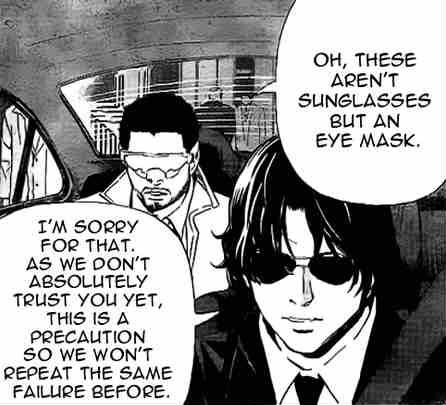 DEE-YAMN.
Predictably, Near has the greatest puppy eyes EVER:
Lol. Just try to resist, Mogi. Just TRY.
(If you recall, he fails. Coincidence? I THINK NOT.)
And then... one for the road: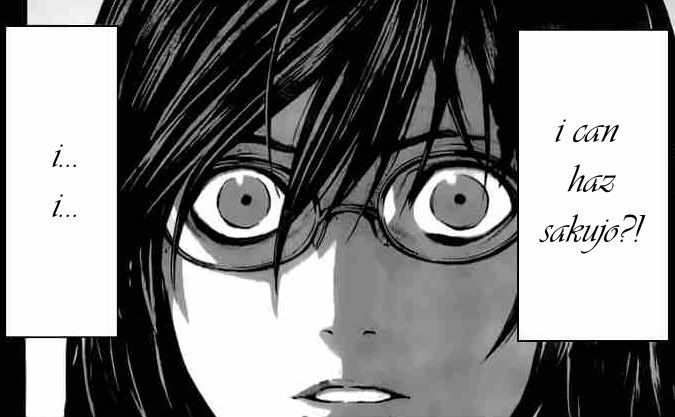 YOU CAN HAZ!! 8D
This was all me, which got Eltea started: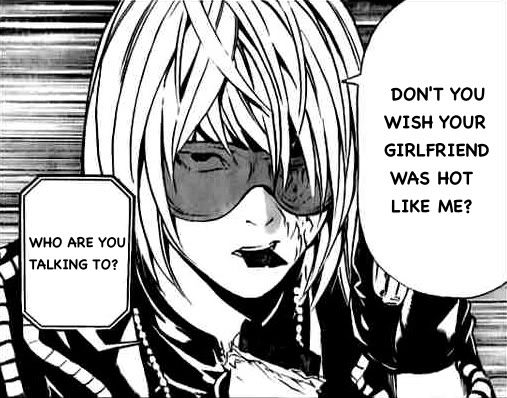 But she wasn't finished yet. Oh, no.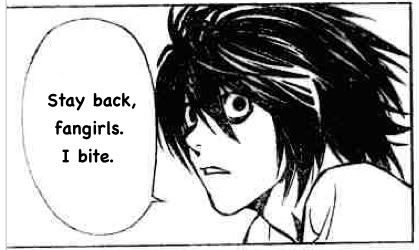 BUT WE WANT TO HUG--
*bloody stumps for arms*
HOLY SHIT HE WASN'T KIDDING. DX
And one more for the road: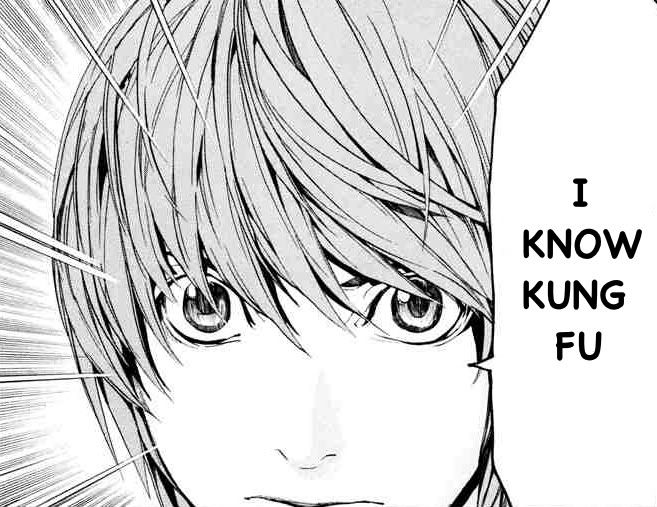 Yeah, that's the basic summary of it. XD Only only only only CHECK OUT MY NEW ICON.

YAY! x3
Whew. /fangirly glee and absurdity of epic proportions XD
Feeling:
bouncy
On the Radio: "Flesh N' Blood" - Oingo Boingo