hai. So there's this fic. That I wrote. That is flipping gigantic.
My wordcounter put it at just under 12,000 words, but FF.net thinks it's over thirteen.

Either way, it's OVER NINE THOUSAND!!!!
Anyway... uh... I'm two pages into my paper! *beams* That's a whole quarter of the way!
You can haz fic.
Pure Chance
Five years after the events of "Dumb Luck," Near invites Matt and Mello over to celebrate their victory over Kira. So begins the kinkiest tea party in the history of mankind. Matt/Mello/Near.
Oh, yes. I went there.
I'm hoping it gets well- and widely-received, because I love it. XD
Feeling: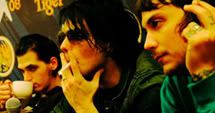 working